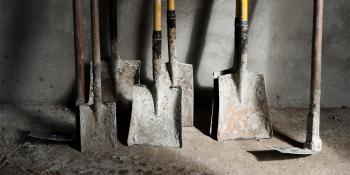 Team spirit, lessons learned
Habitat volunteer Uday Rosario from Qatar recounts his first Global Village trip to Jordan.
I landed in Amman, after a short four-hour flight from Doha. In tow were 15 excited young students from Georgetown University's School of Foreign Service in Qatar.
Our group was diverse and represented four continents. We were about to embark on a weeklong build with Habitat for Humanity Jordan. We had heard a lot about Habitat but had never worked with them before. I was a little nervous, as it was my first time leading a student group in the field.
Our campus had been in operation for less than a year, and we were keen to connect our student's academic learning with practical experiences. We established a "Community Engagement Program" with a strenuous academic curriculum.
Our students had gone through hours of classes to learn about the social, political, economic and cultural issues facing Jordan. We also were excited to work on the ground and help a local community. Little did I know how this trip would alter so much of how I think!
After spending two days in Amman meeting with journalists, politicians, academics and members of various civil society organizations, we were ready for the four-hour drive past the Dead Sea and into the town of Ghor Safi.
For four days, we lived within the community, famous for its deliciously salty tomatoes, as we worked to add two new rooms to an existing house and build a roof as well. In addition, we spent a day making breeze blocks at a local factory managed by Habitat.
In those four days, our group really bonded. From being distant acquaintances, we navigated the usual power dynamics of faculty and student and became a team — or even a family — through our shared experiences in the community.
There were many acts of kindness and team spirit. Helping a team member struggling with being out of his or her comfort zone. The wonderfully sugary minty teas that the homeowner would make. Taking turns cooking traditional meals for the rest of the team. Card games with Habitat staff and community members that went through the night.
There was so much that we learned from the communities, especially how resilient the folks in Ghor Safi are. I realized the power, passion and impact that local changemakers have within their communities. I learned about the various development models that exist and why Habitat focuses on "sweat equity" as such an empowering way to look at solving complex issues through local participation.
We also learned about the ecosystem of change that Habitat has built in the local community, addressing issues of health, finance and education through the process of building homes. In the end, we realized that we did not help them as much as they helped us, which was by far our most important lesson. I have been on 12 Habitat trips since 2006, and that theme keeps repeating.
When I sometimes feel the routine of work getting to me and I long for that escape, all I need to do is take a break from work, lean back in my chair and return to 2006. It always brings a smile to my face and, more importantly, reminds me of wonderful people in that little town by the Dead Sea who taught us lessons that we still remember and feel blessed to have received. Lessons we will never forget.
— Habitat volunteer Uday Rosario
Subscribe to our monthly newsletter
Get our latest news, volunteer opportunities, DIY tips and other ways to get involved with Habitat for Humanity.