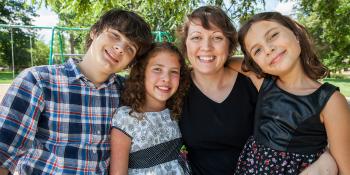 If I hadn't found Habitat, we would still be in that one-bedroom apartment. And it wasn't the best of conditions.
There was an old electric stove, and depending on what you were doing, you'd get shocked. The dryer was always going out, and we had to hang clothes all over the house. It seemed really quiet when we were looking for a place, but then over time, there was a lot of violence. There was actually a homicide in our building. It's those things that put a lot of stress on people, and we were definitely feeling that.
I didn't think I was going to qualify. But they considered that a need: four people in one bedroom, having the issues that we were having.
I had no idea that I was capable of doing a lot of the things we ended up doing. I loved it. For almost a year, I was working seven days a week, plus doing sweat equity. Depending on my shifts, I would work a morning shift, then go to the Habitat ReStore and work an evening shift there. Monday through Friday, I took Habitat classes in the evening, and I put in my construction hours on the weekends, every Saturday possible.
While constructing the house, I got to know my neighbors. We built each other's homes, and you can't get much closer than that.
The biggest difference overall is that general sense of security. Just knowing that it's ours, and we make all the decisions — it's been really comforting for our family. I think the kids knowing that they won't have to move is very comforting. We've made a lot of moves over the years — 13, in fact.
I know my son really appreciates having his room. Having his space, his own room — he really likes it a lot. He's trying to convince me to turn the basement into a room, which I don't know if I'm keen on yet. But it's definitely a possibility. Just knowing that we have possibilities, it's really awesome.
You know, I think I was more scared buying a car than buying the house. And the only reason for that was Habitat for Humanity. I feel really comforted knowing that, if anything were to happen, Habitat would work with me. So I didn't feel scared, just willing.
When I went to sign all the official paperwork, and they hand you the real keys and the title and everything, that's when I was like, "This is happening. This is now my house, and these are my keys." We moved in right away, that next weekend, and even with boxes all over the place it felt like, "This is my house."
— Habitat homeowner Lyndsay Taylor