The true meaning of volunteering and service
Steven Yang grew up in Golden Valley, a quiet suburb on the edge of Minneapolis, Minnesota. The beige vinyl-sided home he shared with his parents, uncle and six siblings is much like others in his neighborhood: simple and sturdy.
There is one difference — small but crucial — that you might miss if you're not looking. The signatures of dozens of Twin Cities Habitat for Humanity volunteers who helped build Yang's family house adorn the walls of the garage.
Each name stands as a testament to the individual compassion and collective effort it takes to turn blueprints and lumber into a home that both shelters and shapes the people within it.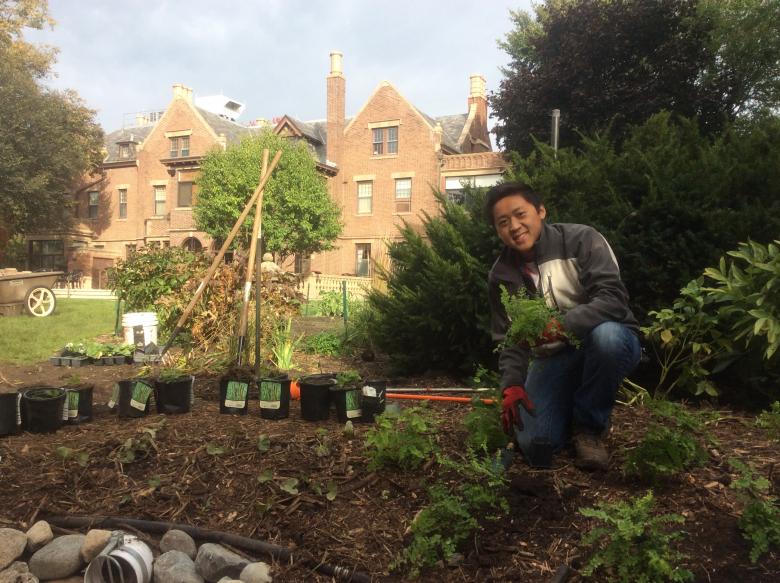 When Yang came across these markings as a child, he began to comprehend how his family's home, and the physical and emotional stability it offered him and his Hmong refugee parents, came to be — thanks to selfless acts of kindness.
"I have a vivid memory of that moment when I was playing around in the garage and saw what, at first, I thought were drawings," says Yang, now 23. "I understood the magnitude of those signatures, the names of the people who helped my family. It was very meaningful."
The moment helped instill in Yang a heart for service. "In high school, I initially began volunteering to get experience to put on my resume," he says. But the enduring relationship Yang's parents continued to have with several of the Habitat volunteers who built with them, including the construction leader, made him realize that "volunteering is so much more than that."
"It's about putting the people who need help first," Yang says. "The people who built for sure didn't do it to have it on a resume. They did it to help a family."
Soon after, Yang realized that his passion, the one he is most driven to dedicate himself to, is the environment. After graduating from college, he joined Minnesota GreenCorps, an AmeriCorps initiative focused on environmental conservation and stewardship.
He credits the one-year program with giving him the tools and direction to create both a sustainable avenue of service and a career. "I always had an interest, but not the field experience," Yang says. "GreenCorps gave me that chance." 
Yang capitalized on that experience and enrolled in a graduate program at Duke University, where he currently is pursuing a master's degree in environmental management. When he graduates, he plans to return to Minneapolis to share his knowledge with the community that supported him from the beginning.
"I want to connect people to the environment, especially communities of color," he says. These communities have historically shouldered the brunt of pollution and environmental hazards, Yang says, because of socioeconomic factors. "I want to work with my own community, the Hmong community, to help them to better understand and engage with the environment of this country that we migrated to."
But no matter what the future holds, Yang knows on a personal level the importance of every person coming together to do something, no matter how small.
"If I just nail in this one nail, it seems like it probably won't do much. But you have to think big picture, of all the people who are adding their one nail to put up the boards that make up the walls that form a house," he says, recalling the mosaic of signatures in his own parent's garage.
"Each of those actions adds up to build something meaningful."
Ready to answer your own calling for service? Habitat for Humanity offers AmeriCorps positions that help build strong and stable homes in communities across the U.S. For one year, you can get paid to build shelter, community and confidence while gaining real world experience. You can serve in your own backyard or travel to a new community. These full-time service positions offer a great opportunity to make a real impact in the lives of others.