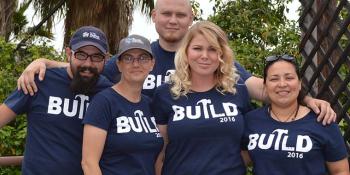 Veterans continuing to serve through Habitat
By Anne Marie Conte, San Diego Habitat for Humanity neighborhood revitalization and veteran services program manager
I learned many valuable life lessons during my service in the United States Air Force from 1994 to 2005. I learned the importance of having a place to call home. I learned that I can still have a positive impact on my community by continuing to serve it. And I learned that there are others just like me who want to continue to make the world a better place, not only for the hardworking people who live here now, but for generations to come.
Today, I am able to apply each of these lessons in my work with San Diego Habitat, thanks to The Mission Continues, which offered me an opportunity to find empowerment and purpose after my military service. The Mission Continues empowers veterans to continue serving at home through community impact. Local Habitats throughout the United States actively host Mission Continues fellows, post-9/11 veterans who serve 20 hours a week for 26 weeks. To date, 44 veterans have served with 27 Habitat affiliates. With Habitat, these fellows work to empower others through shelter and to help build stronger, more stable communities.
I was honored to accept one of these fellowships to work with San Diego Habitat to breathe life into their veteran service and neighborhood revitalization programs, both of which were still in their inception. After my fellowship ended, I joined the Habitat family full-time to manage both programs, but I knew I needed some help. I turned to my fellow veterans and The Mission Continues once again.

Vets helping vets
Mission Continues fellows have come to Habitat via different journeys, but all with the same fierce commitment to lifting up entire communities and helping others achieve their goals and find their successes.
James Cyr is a U.S. Navy veteran who found The Mission Continues while returning to the construction industry as he transitioned to civilian life. He is currently the lead superintendent on all of our neighborhood revitalization projects.
Mikhail Okshin is a U.S. Marine Corps veteran who is currently The Mission Continues' San Diego 1st service platoon leader. He is our veteran outreach manager, having been hired on at the end of his fellowship. Because of his dedication, San Diego Habitat is now able to offer expanded referral and supportive services to the local veteran community, including education and job counseling, basic needs, mental and physical health services, and social, personal and spiritual connections.
Roxana Mejia is a U.S. Navy veteran and was recently hired by San Diego Habitat to perform intensive community outreach in neighborhood revitalization. Her military experience in project planning and management prepared her for working with diverse communities.
Abigail Cross is a current Mission Continues fellow and a U.S. Marine Corps veteran. Her desire to help others led her to serve and motivates her in her neighborhood revitalization work with Habitat.
Stephen Brooks, a veteran of the U.S. Marine Corps, and Rowena Darvin, a U.S. Army veteran, are two Mission Continues fellows who worked in construction at Habitat and take those experiences with them as they pursue higher education: Stephen in civil engineering and Rowena in education.
San Diego Habitat's neighborhood revitalization is a critical tool for change, and our fellows are invaluable in our efforts. Many of our new construction sites are nestled into older neighborhoods that are in need of attention and care. We strive to improve the communities around our sites and to support families who already own their homes. We do that through critical home repair and sustainable living and veteran programs.
Recently, Abigail and I sat — surrounded by decades of family photos — in the kitchen of a woman who is in the midst of receiving a major health, safety and sustainability overhaul to her home. She smiled as we talked about the upcoming project, lauded James for his professionalism and respect of the home she has loved for 40 years, and hugged us in thanks as we left.
The relationships built, the joyful neighbors, the transformation of entire neighborhoods — that's what it means to serve. And this partnership between Habitat for Humanity and The Mission Continues is a shining example of how our diverse, interwoven experiences bring us together to find purpose and to continue our contributions to something greater than ourselves.
For more information about Habitat's work with veterans and our partnership with The Mission Continues, email [email protected].
Subscribe to our monthly newsletter
Get the latest Habitat news, volunteer opportunities, DIY tips and more ways to get involved.