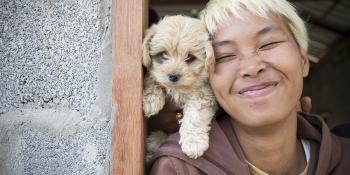 Inspired by the idea to unite people through giving, the global movement #GivingTuesday was created in 2012 by the team at the Belfer Center for Innovation & Social Impact at the 92nd Street Y — a cultural and community center in New York City.
Directly following Black Friday and Cyber Monday, Giving Tuesday harnesses the power of social media to connect and encourage people around the world to give back to their communities during the holiday season. Givers are invited to take action however they feel inspired to — through donations, volunteering, advocacy, acts of kindness and more. Anyone can be a part of Giving Tuesday, including families, individuals, companies and organizations.
To further celebrate and encourage giving, the movement asks participants to share their stories or ideas on social media using the hashtag #GivingTuesday, bringing together a community of givers from around the world.
When is Giving Tuesday?
This year, Giving Tuesday 2023 is on November 28.
Each year, the movement inspires people to take action on the Tuesday after Thanksgiving. 
On Giving Tuesday, join us here on habitat.org and on Habitat's social channels to find out how you can join Habitat in giving back this holiday season.
Your donation to Habitat this Giving Tuesday will be matched dollar for dollar, doubling the life‑changing impact for families!
More ways you can support Habitat
Here are some other ways you can make a difference by supporting Habitat on Giving Tuesday and throughout the holiday season: 
Fundraise through Facebook
Create a Giving Tuesday Facebook fundraiser today to encourage your family and friends to join you in ensuring everyone has a decent place to call home. 
Support us while you shop
Learn how you can show your support by participating in special promotions when you shop with our cause marketing partners. 
Send a card to a friend or loved one
Make a Gift from the Heart donation in honor of family or friends! No matter the occasion, there are beautiful holiday card designs you can choose to send.