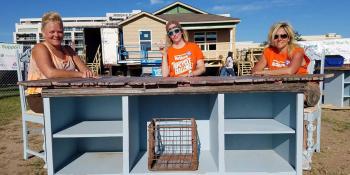 With just a little imagination and perhaps a coat of paint or some new hardware, an old cabinet, table or chair can get new life as something fresh and unique.
It's a process many refer to as "upcycling," which UpcycleThat.com defines this way: "The act of taking something no longer in use and giving it a second life and new function. In doing so, the finished product often becomes more practical, valuable and beautiful than what it previously was."
Upcycling is not the same as recycling, explains Hipcycle.com. "Recycling takes consumer materials — mostly plastic, paper, metal and glass — and breaks them down so their base materials can be remade into a new consumer product, often of lesser quality," the website notes. "When you upcycle an item, you aren't breaking down the materials. You may be refashioning it — like cutting a T-shirt into strips of yarn — but it's still made of the same materials as when you started. Also, the upcycled item is typically better or the same quality as the original."
An item ready for upcycling can be something you currently have in the house, acquired as a hand-me-down or purchased from a retail outlet, such as a Habitat for Humanity ReStore.
Three upcyclers share their take on the process, what kind of items they look for and what can be done with just a little bit of time and imagination.
Rachel O'Neil shops at the Habitat Metro West/Greater Worcester ReStore and the Habitat Greater Lowell ReStore.
What she looks for: "The piece really has to inspire me. What can I do with it? Does it speak to me? I definitely make it a point to go to the ReStore. I regularly go for chairs; end tables are phenomenal. I picked up this end table at a small thrift store in my neighborhood. It has good lines, solid construction. A month or two later, I was at the ReStore in Worcester and I found the same style end table. I call them fraternal twins. Now I have a pair of end tables that I redid."
What all's involved: "Sometimes it can be as simple as a coat of paint. It is amazing how just a different color of paint will really bring the piece out."
An extra takeaway: "Give yourself a little bit of patience. Let yourself learn."
Why she upcycles: "It's really lovely when you get to have a custom piece in your house. Having a custom piece that you love is really attainable."
LeeSchelle Simon shops at the Wichita Habitat ReStore.
What she looks for: "My friend and I go out and find our things, and then we make it into stuff. And we typically just keep it for ourselves. It's kind of what we like to do in our spare time."
All that's involved: "There's just a lot of good use for things, and whether you put blue paint on it or pink paint, it just takes a little bit of time and effort, and it's useable."
Why upcycle: "I like the mission of the ReStore. It's a cool place. Each time you walk in, you find things you are not planning. But you're like, 'Hey, this is a pretty awesome piece; I'm going to go ahead and get it.'"
Loralyn Aube shops at the Habitat Greater Lowell ReStore.
What all's involved: "You don't have to buy new, expensive pieces. With a little bit of sweat equity, you can take something and make it new and fresh. Anybody with a passion can make something wonderful.
Why upcycle: "I think it's much more meaningful to take something and put your own spin on it and make it your own instead of going out and buying something that somebody else did, or a machine did. You'll look at that for years down the road and go, 'Hey, I did that.'"
Visit your local ReStore to see what items inspire you to try your hand at upcycling!