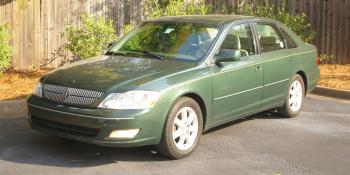 Where can I donate my old car?
Hammers. Nails. Drills. These are the things most people might list when they think about what is needed to help families build or improve a place to call home. But did you know that the list also includes cars, trucks, boats and motorcycles?
Through Habitat for Humanity's Cars for Homes program, donated vehicles raise money to help more families. One hundred percent of the net proceeds from the sale of your donated vehicle are used by your local Habitat to build and repair affordable homes. Just a few clicks online can get your donation in process. Someone will even come and get the vehicle for you.
At Habitat East Bay/Silicon Valley, the Cars for Homes program has been a successful way to raise money that continues to grow. Krista Morgenthaler, senior vice president of development and communications, says it's "a way for people to donate when maybe a cash donation doesn't make sense" and affirms that vehicle donations are helping them to build more homes.
And she isn't the only one.
"Cars for Homes is a great opportunity for us," says Wendy Cullinan, resource development director for Habitat Cape Cod. "Our donations stay right here on the Cape to put families into affordable homes."
Longtime Habitat volunteer and supporter Rick Damato made such a donation when he gave his 2003 Toyota Avalon.
Damato, who lives in Gwinnett County, Georgia, says he found his car donation to be a smooth process. "It was painless from my end, a little paperwork," he says.
Think this sounds like an opportunity for you? View our slideshow to see some of the vehicles Habitat has received and learn more about how to donate today!
Subscribe to our monthly newsletter
Get the latest Habitat news, volunteer opportunities, DIY tips and more ways to get involved.