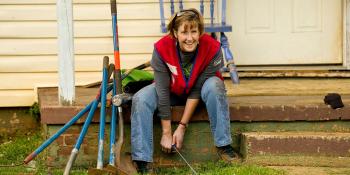 "Women have the ability to make a difference"
Lowe's vice president of public affairs Chris Ahearn knows her way around a Habitat job site. Ahearn has long volunteered on builds with her church and also participates every year in National Women Build Week, which empowers women and calls attention to their desire to build strong and stable families through affordable shelter. This year marks 10 years that Lowe's has partnered with Habitat in hosting the build week, with contributions totaling more than $15 million since 2008.
Ahearn shares what she has learned from her experiences — and about herself — through Women Build.
On why she is a fan of Habitat
Habitat has done a wonderful job over the decades in raising awareness about poverty housing, not only in the U.S., but also around the world, and it gives people a platform where they can actually do something about it. Whether through advocacy or being on a build site, Habitat helps people solve problems, one house at a time, one relationship at a time.
On why she volunteers with Women Build
Part of what makes Women Build special is that it really is women helping women — not only women helping the homeowner, but also women helping other women to build skills. Women Build shows women that they have the ability to make a huge difference in their community. It helps all of us feel like we are part of something bigger than any of us could be on our own.
On building alongside the homeowner
That is one of the best things about a Habitat build — you are not doing this for somebody, you are doing this with somebody. Sometimes you are on a build site with 10 or 15 women, and you don't know who is a volunteer and who is the homeowner. You are all just one team.
On what she has learned through Women Build
That we are all so much more alike than we are different. I was working alongside one homeowner who was a mom. She stopped to take a quick phone call from her babysitter who wanted to know if it was OK to give her kids a bath after they did their homework. My kids were the same ages, and I thought, "We are all about getting homework done and dinner ready." Everybody is trying to do the best they can for their families and communities.
On what she has learned about herself
I was on a Women Build, and I thought I would do some roofing shingles. But by the time I got up to the roof, I remembered how afraid of heights I am. I got right back down and learned how to do vinyl siding that day instead. Whatever you do, you can make a difference.
On what hosting National Women Build Week means to Lowe's employees
Our partnership with Habitat for Humanity allows us to give back and provide our home improvement expertise in a special way directly in the communities where we live and work. When we work on Women Build sites, or a traditional Habitat build opportunity, our employees are clamoring to sign up. We have a lot of employees who come out to the job site and bring great skills with them. We also have accountants and communicators and people from all walks of life. The great thing about a Habitat build is that the communicator has just as important a role as the person who is expert at getting the plumbing just right. After you spend a week with women working on something that is truly amazing and you are making a difference, it really makes you want to do it again.
On her favorite job on a Habitat build
I like siding and flooring because they are like putting puzzle pieces together. I like the precision. I like painting — you can get a lot of people in the room and get messy. There is also something really gratifying about framing, seeing the bones of the house come together from the ground up.
On her most memorable Habitat moment
Working on a build site in New Orleans following Hurricane Katrina. There were a number of celebrities on that build — President and Mrs. Carter, Garth Brooks and Trisha Yearwood. Everybody — no matter how famous they were or how ordinary, myself included — were all one team, out there to get a job done.
Read more: Janet has lived in the very first Women Build house since 1991. With her daughters now successful and grown, she reflects on the lasting impact of the home she helped build.