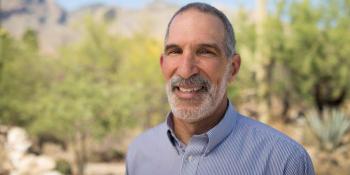 "You see so much more confidence"
A key group of Habitat for Humanity volunteers are those who serve as committee members to move the mission forward. Special events, construction and family services — each plays an important role in Habitat's work.
Dave Hamra serves on the selection committee with Tucson Habitat. The Arizona resident says he was drawn to Habitat because it focuses on a "hand up, not a handout."
The selection committee works to identify the families who will build their homes with Habitat. It's a process with multiple steps that can take months.
"Plenty of people who may qualify don't know about Habitat," Dave says. "So we start with outreach events just to get the word out."
After families who apply complete their financial review, the selection committee picks back up, continuing to work with them and ultimately making the recommendation of who will become future Habitat homeowners and begin their sweat equity.
Dave looks forward to seeing the end result of his committee's process at the dedication ceremonies, the day a Habitat homeowner receives the keys to the new home they've helped build.
"You see so much more confidence out of these folks," he says. "I think, in addition to being thrilled about the home, they're feeling pretty proud with the work that they've done."
Subscribe to our monthly newsletter
Get our latest news, volunteer opportunities, DIY tips and other ways to get involved with Habitat for Humanity.