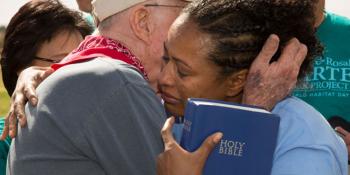 Eritrean emigrants see homeownership dream come true in San Jose
SAN JOSE, California — Sometimes it's the house. Sometimes it's the yard that goes with the house. For Semira's two children — Fiona, 6, and Jimmy, 5 — the best thing about their new Habitat for Humanity home is specifically the Chinese elm tree in the fenced back yard — the one with the low, sturdy branches that make it a perfect climbing tree.
"Jimmy has been up in the tree already a lot," she said. "So has Fiona. They really love to play here."
On Tuesday, however, Jimmy and Fiona had to stay with relatives so that a Jimmy & Rosalynn Carter Work Project crew could descend on her house, an existing home that East Bay/Silicon Valley Habitat for Humanity bought and has been renovating extensively so Semira can buy it and move in.
Among that crew Tuesday were Garth Brooks and Trisha Yearwood, longtime supporters of the Carter Work Project who put in serious sweat every year (and show up with their own tool belts). As the large work crew gathered outside Semira's house to introduce themselves and what they do, Brooks said simply, "I'm Garth. You can call me Mr. Yearwood." Yearwood followed: "I'm Trisha. I'm a chick singer from Oklahoma."
The biggest laugh of the morning, however, went to crew leader Patrick Harris, who said he had been volunteering with Habitat for 22 years. "So Jimmy beat me out by eight years, but he's older," Harris joked.
Indeed, this year is the 30th annual Carter Work Project, which over those years has brought together more than 89,000 volunteers to help more than 3,800 families in 14 countries.
Semira immigrated to the United States from the east African country of Eritrea in 1998. She works as a nursing assistant at the Santa Clara Medical Center, and she currently lives in a small apartment in a San Jose neighborhood that she worries is unsafe for her children.
"I am a hard-working mother," she said Tuesday. "I want to provide a safe place for my children to grow up. Owning a home means everything to me. Financially and physically, we will feel safe, and I will be able to save more money for my children's education and their future.
"It's a dream come true," she concluded as she began to cry.
A few blocks away, President and Mrs. Carter were renovating a similar house for another Eritrean emigrant family. Mulugeta; his wife, Tiruwork; their baby daughter; and Tiruwork's mother have all been sharing one bedroom in an apartment, but their new home has three bedrooms. They met the Carters at a Habitat fundraiser Monday night and exchanged heartfelt hugs.
"Habitat is a gift for all of us, to expand our lives, to stretch our hearts, to stretch our minds, and to give us a more adventurous, sometimes difficult, and gratifying life," Mr. Carter told the San Jose volunteers. After renovating the Jenbers' house Tuesday morning, the Carters flew to Denver, Colorado, the next leg of the 2013 Carter Work Project. But the other volunteers will stay on in San Jose, helping Semira and the Mulugeta achieve their dreams, Habitat-style.