What Habitat is building in Dallas and Fort Worth
Long-term impact
Habitat for Humanity's long-term impact on communities is on full display in Oak Cliff Gardens, a neighborhood of 400 homes in the larger area of East Oak Cliff in Dallas, Texas.
Sharon Aycock runs P&S Corner Store, a small variety shop and quick-order grill in the heart of the community, and she also is a Habitat homeowner. She has lived in the neighborhood for 10 years and paid off her mortgage in 2007.
"You wouldn't recognize this place back then," she says. "It was drug-infested at first. We've worked really hard to clean up. Now look at what Habitat has done here."
Dallas Area Habitat has built 63 houses and repaired 24 in the decade it's been working here. This week, during the 31st annual Jimmy & Rosalynn Carter Work Project, volunteers will help build 30 more homes and repair another 20.
Beyond the houses that stand throughout this community, Habitat also has a Community Engagement and Education Program house that symbolizes the organization's commitment to raising up the whole neighborhood and improving the quality of life for everyone.
Anna Vogelsinger started working in East Oak Cliff last year as an AmeriCorps member. She was eager to return as part of this year's Jimmy & Rosalynn Carter Work Project to see how far the neighborhood has come and also to pitch in on keeping the momentum alive. "It's so cool to see what it looks like now compared to where we started," Vogelsinger says. "Right over there, that house was a pile of bricks when I last saw it. It's so exciting to see what's happening here."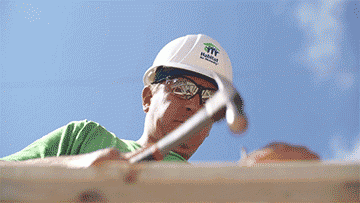 Dreams come true
The Carter Work Project is all about homeowners and volunteers, and Gloria Olcott is both.
She took a week of unpaid vacation to work in Fort Worth and earn sweat-equity hours toward the Habitat home she will move into next year. "I'm 60 years old, and this is the first time I've ever owned a home," she says.
When she qualified with Habitat, she framed a picture of her floor plan and put it on her nightstand. "I claimed it every day, every morning," she said. "I believed it. I knew it was a matter of faith, a matter of time."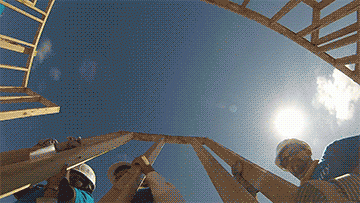 A break with the past, a better future for all
Carter Vaughan, a Fort Worth financial adviser, is putting his faith into action at this year's Carter Work Project.
He's a member of Fort Worth First United Methodist Church, where the minister routinely says at the end of every service, "Go and be God's people in the world."
Vaughan had long avoided the Central Meadowbrook neighborhood, but this week he is there, helping to build homes with people in need of better housing.
Vaughan and hundreds of others like him are living President Carter's observation made earlier this week: "It's very difficult for rich people like all of us to cross that tremendous barrier between us and poor people who have never had a decent place in which to live. I don't know of any other organization in which you can do that more easily than Habitat for Humanity."