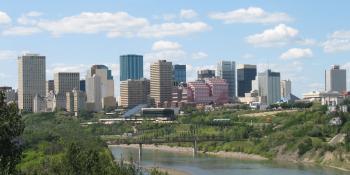 Helping Albertans most in need
"All Albertans deserve a safe and affordable place to live," says Lori Sigurdson, minister of seniors and housing for the Canadian province of Alberta. It's an idea that will be in the spotlight during the 2017 Jimmy & Rosalynn Carter Work Project when 75 families in Edmonton and Fort Saskatchewan build alongside local and visiting volunteers.
The provincial government in Alberta has shown its full support by serving as a sponsor for the weeklong build. "I know it's going to make a really big difference in our community," Sigurdson says.
The province already has made a $20 million investment in Habitat over four years and is investing an additional $4.1 million with the Carter Work Project, Sigurdson says. The investments are just part of the work to help some 15,000 families on wait lists for affordable housing in Alberta. The province is close to launching an affordable housing strategy to ensure there is a plan to help families for years to come.
"We know that housing is so fundamental to people's well-being," Sigurdson says. "The opportunity to be part of a community through homeownership is a huge thing for families."
The ministry that Sigurdson oversees "has a mandate to create affordable housing options for Albertans most in need and helps Alberta's aging population lead healthy and independent lives," according to the provincial government's website. During the week of the Carter Work Project, Sigurdson will have a hammer in her hand. She is looking forward to building alongside future homeowners, fellow Albertans and the many volunteers coming from all over.
"This is a great opportunity for people from all over Alberta to gather together and do some hard work, pound some nails and really make a difference in the lives of vulnerable families in our province," she says.
Subscribe to our monthly newsletter
Get our latest news, volunteer opportunities, DIY tips and other ways to get involved with Habitat for Humanity.