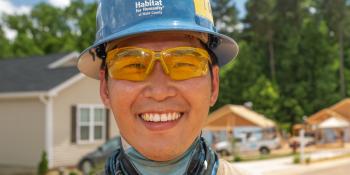 Benefits of AmeriCorps service
Build sustainable solutions in the community. Gain valuable real-world experiences. Prepare for your future.
Why Habitat AmeriCorps?
Raises your awareness of the social issues that face your community.
Provides you an opportunity to learn and develop new skills and confidence.
Helps you gain hands-on project management experience.
Increases your knowledge of service and engagement.
Maximizes your construction and homebuilding experience.
Improves your performance at a future job.
You can help strengthen communities and families through your service.
Service length
AmeriCorps National
A complete term of service requires the completion of 1,700 service hours and typically lasts 10½ months.
AmeriCorps VISTA
A complete term of service lasts one year, where you typically serve about 40 hours each week.
Benefits
Living allowance minimum of $15,850 for a full 46.5 weeks of service.
The Segal Education Award of $6,195 following successful completion of service with a lifetime maximum of two awards.

The education award is good for seven years from the end of service and can be used to repay your qualified student loans or for your future education at eligible schools. National members age 55 and older at the start of service may be eligible to transfer the award to certain family members.

Possible forbearance of your qualified student loan, including accrued interest payments after the successful completion of the term of service.  
Health plan benefits – eligible for an Affordable Care Act compliant-health plan.
Childcare benefits, if you qualify.
Inclusion in a Member Assistance Program that offers counseling and financial planning resources.
Worker's compensation.