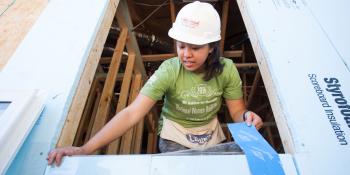 Stories of service
Habitat AmeriCorps
You can learn more about the Habitat for Humanity AmeriCorps program by reading our stories of service.
AmeriCorps members join Habitat for Humanity for its annual Build-a-Thon
PRESS RELEASE – (May 16, 2014) Throughout the week, AmeriCorps members and volunteers will build 10 new homes and perform several critical home repairs in partnership with families. In addition, AmeriCorps members will partner with local organizations and volunteers on community service projects.
Habitat for Humanity AmeriCorps: Building hope, making an impact
BLOG – (April 22, 2014) On the fifth anniversary of the Serve America Act, Liz Blake reflects on the impact Habitat AmeriCorps has made building homes and touching lives since the act's passing.
Habitat for Humanity volunteers and AmeriCorps members to observe 28th annual Martin Luther King Jr. Day of Service
PRESS RELEASE – (January 17, 2014) "The memory of Dr. King continues to inspire us all to come together to build stronger, healthier and more vibrant communities around the world," said Jonathan Reckford, CEO of Habitat for Humanity International. "We thank everyone volunteering with us for helping to honor Dr. King's legacy on the upcoming day of service."