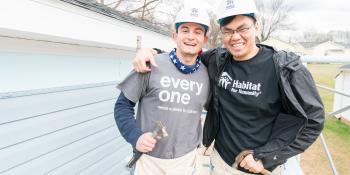 Collegiate Challenge's 30th anniversary
Over the past 30 years, Habitat for Humanity's Collegiate Challenge has grown from a spring break opportunity engaging 1,200 volunteers to a year-round program drawing in over 260,000.
While the program continues to grow and change, one thing that remains constant is Collegiate Challenge's commitment to build partnerships with people who share a common goal, to gain greater awareness of the need for decent and affordable housing, and to deepen the commitment to social action.  
Collegiate Challenge volunteer Joanna Norland says, "With luck, what we've seen will inspire us with a renewed sense of social responsibility." She believes the incredible experience of working side by side with homeowners and families through Habitat "can help equip us to become better voters, decision-makers and activists."
Today, Collegiate Challenge has become a tradition for many campus chapters, youth groups and organizations. With each trip, students and youth have the opportunity to learn unique skills and gain a new perspective through the Collegiate Challenge program. Young adults return from their trips feeling inspired and empowered to create a lasting impact in their own communities.