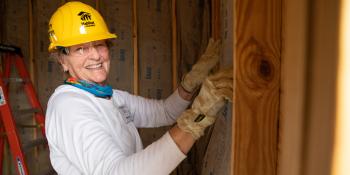 With Habitat's RV Care-A-Vanner program, you can travel in your RV to build sites across the U.S. and Canada and work alongside families as they build a foundation for a brighter future!
Check out a few frequently asked questions to get started. Be sure to view our volunteer code of conduct to learn more about volunteer expectations.
If you have more questions, you can contact us at 1-800-HABITAT (1-800-422-4828), ext. 7534, or by email at [email protected].
Select a build from the RV Care-A-Vanners builds list.
Click on individual builds to read further details about each opportunity. You can register for a build by following the link at the bottom of the page. First-time participants will need to create a username and password that will be needed each time you register for a build.
If you have problems or questions, please email 

[email protected]

 or call (229) 410-7534 to contact the RV Care-A-Vanner desk. Be sure to include the spelling of your last name and your zip code in phone or email messages.
Participation is on a first-come, first-serve basis.
Participants can register only for his or her RV.
Please do not attend an RV Care-A-Vanner build unless you have confirmation for that build by the RV Care-A-Vanner desk and have received the build information from the team leader or the team leader coordinator.
About four to six weeks before a build, the team leader will send a welcome letter via email to all registered participants. The welcome letter will contain directions, parking arrangements, contact information and additional details about the build. If you are a registered participant and don't receive an information packet three weeks before your build, contact the RV Care-A-Vanner desk.
The RV Care-A-Vanners volunteer throughout the United States and Canada.
On many of our builds, parking facilities do not have access to a bathroom or shower house, so you must have a self-contained RV with holding tanks that can be dumped in compliance with local, state and federal law.

All RV Care-A-Vanners are required to have a background check. Habitat for Humanity International has a system to assist you with this requirement.

You must have an email address and internet access as that is our primary means of contact with our volunteers.
No problem! We'll be happy to teach you on-site. You can try something new or stick to something more familiar. Alternatively, if you are not comfortable on the job site, team members can often volunteer at the local Habitat office or Habitat ReStore.
Generally, each build consists of eight to 20 volunteers and lasts two weeks. The build begins with a welcome event hosted by the local Habitat office. Each workday typically entails a morning devotional, safety talk, job assignments and six to seven hours of building, with morning, lunch and afternoon breaks. Depending on the build, lunch may be provided.

An experienced RV Care-A-Vanner on your team will volunteer to be the team leader. They will contact you prior to the build with more information on the build such as arrival times and parking information.

Our new member coordinator will contact you after you sign up for your first build to share more information about the program. You can also contact the RV Care-A-Vanner desk via email with your questions.
The local Habitat office will find RV parking for your vehicles, but each Care-A-Vanner is responsible for paying for their camping fees. However, the local Habitat office is often able to negotiate a discounted rate for RV Care-A-Vanners. While RV Care-A-Vanner volunteers pay their own expenses, some of your expenses may be tax-deductible. 

The local Habitat also provides a construction supervision, power tools, building materials and ladders. Additionally, volunteers can expect at least minimal electric hookups, access to water and a nearby dump station. Sometimes full hookups are available. 
Please bring sturdy closed-toed work shoes, gloves, a tool belt, hammer, square, pencil, measuring tape, safety glasses and a hard hat. Although the Personal Protective Equipment, such as safety glasses and hard hats, is often provided by the local Habitat, it is always best to have your own.
If you have to withdraw from a build before it starts, notify the RV Care-A-Vanner desk right away. By letting us know as soon as you can, we can offer this spot to another volunteer and maximize our impact on the families we build alongside.
If the build you want to join is full, you can join the waitlist. If another volunteer cancels, the Care-A-Vanner desk will contact the first person on the waitlist to fill the vacancy. It is not uncommon for the first few people on the waitlist to. If you are on a waitlist and change your mind, please ask the Care-A-Vanner Desk to remove your name from the list.