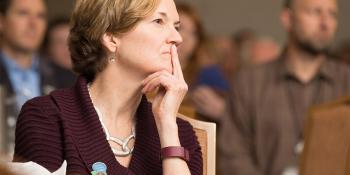 Mar. 11, 2015 public statement
Habitat for Humanity applauds reintroduction of Weatherization Enhancement and Local Energy Efficiency Investment and Accountability Act
WASHINGTON (Mar. 11, 2015) – Today, U.S. Senators Coons, D-Del., Collins, R-Maine, Reed, D-R.I., and Shaheen, D-N.H., reintroduced SB 703, the Weatherization Enhancement and Local Energy Efficiency Investment and Accountability Act. The bill reauthorizes and extends the Weatherization Assistance Program and State Energy Program at the Department of Energy for another five years, and creates a leveraged, competitive grant program for nonprofits to access the WAP. The bill would reduce energy costs for lower-income families by improving energy efficiency in their homes.
"In addition to creating health and environmental benefits, increasing and modernizing weatherization techniques will lower energy costs for individual families and create financial opportunities throughout communities in the U.S. Every dollar that families save on energy usage can go toward other necessities," said Jonathan Reckford, CEO of Habitat for Humanity. "Habitat for Humanity strongly supports this legislation that will help families make residential energy efficient upgrades while creating an innovative and competitive grant program that enables nonprofits to help solve the ongoing energy efficiency challenges facing lower-income families."
To date, homeowners involved in the Weatherization Assistance Program have saved more than $2.50 on their energy costs for every dollar invested in the program. State Energy Program funds enable State Energy Offices to leverage other resources and develop strategic programs that support the private sector in increasing residential energy efficiency.
You can join Habitat for Humanity in supporting this important and innovative bill by contacting your federal representatives.