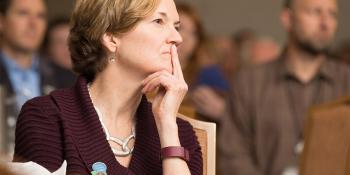 June 1, 2016 public statement
Habitat for Humanity thanks Sen. Bennet for co-sponsoring legislation supporting operations across the U.S.
WASHINGTON (June 1, 2015) – Today, U.S. Senator Michael Bennet, D-Colo., agreed to co-sponsor bipartisan bill S 1344 to clarify mortgage regulations to ensure Habitat for Humanity affiliates may continue to receive voluntarily donated appraisals on homes that they build without the risk of financial penalty.
"Habitat for Humanity applauds Sen. Bennet's co-sponsoring legislation ensuring that appraisers can continue to voluntarily donate their services to Habitat for Humanity without creating liability for Habitat affiliates," said Christopher Ptomey, Habitat for Humanity International's director of government relations. "With statutory penalties of up to $20,000 per day for failure to compensate fee appraisers at a 'reasonable and customary' rate, even one unfavorable court finding could force a local Habitat affiliate to close its doors and cease meeting housing needs in their community."
Appraisals inform homeowners of the value of their home and also assure Habitat for Humanity affiliates of longer-term affordability and financial sustainability for their partner families. Donated appraisals are an opportunity for the financial community to contribute to Habitat for Humanity's work, enabling Habitat to allocate funds to other critical services.