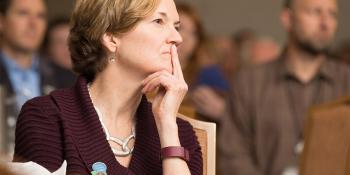 Oct. 26, 2015 public statement
House bill would require U.S. Government Accountability Office to study potential impact of narrowing membership for FHLBanks
WASHINGTON (Oct. 26, 2015) – Last Friday, U.S. Rep. Blaine Luetkemeyer, R-Mo., as Chairman of the House Financial Services Subcommittee on Housing and Insurance, introduced HR 3808, to require a study of proposed changes to Federal Home Loan Bank membership rules. The bill would require the U.S. Government Accountability Office to assess potential risks and benefits of the proposed Federal Housing Finance Agency rule tightening membership requirements for the FHLBanks before moving forward with implementation. The bill is co-sponsored by Rep. Patrick McHenry, R-N.C., Rep. Danny Heck, D-Wash., and Rep. John C. Carney, Jr., D-Del.
"The FHLBanks and member institutions are vital partners of U.S. Habitat for Humanity affiliates," said Christopher Ptomey, senior director of Government Relations, Habitat for Humanity International. "During the depths of the housing crisis and economic recession, the FHLBanks remained strong and stable and continued to enable critically needed investments in local communities through the Affordable Housing Program and Community Investment Program. In light of this strong record of performance, any changes to the FHLBanks' membership rules should be carefully evaluated before implementation. Chairman Luetkemeyer's bill will ensure assessments are made to fully understand the potential impact on the membership and the ability of the FHLBanks to support communities and organizations such as Habitat for Humanity that are meeting local housing needs."
Providers of affordable housing strongly rely on credit flowing from local financial institutions, which in turn, look to their regional FHLBanks for dependable liquidity. Under the current membership structure established by Congress, the FHLBanks have proven to be a sound business model that reliably supplies liquidity through all market cycles to a range of cooperative members. Changes proposed by the FHFA could result in the expulsion of current FHLBank members, reducing liquidity and funding for its Affordable Housing Program and Community Investment Program, which have provided more than $250 million in support to Habitat affiliates nationwide to provide a foundation for families to build a brighter future through homeownership. The AHP is the largest single, private source of funding for low- to moderate-income housing in the country.
For more information, read a copy of the proposed legislation.