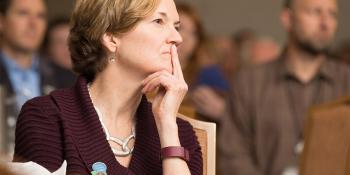 May 21, 2015 public statement
Senate committee addresses financial regulations, clarification would support Habitat operations across the U.S.
WASHINGTON (May 21, 2015) —Today, the United States Senate Banking, Housing and Urban Affairs Committee, under the leadership of Chairman Senator Richard Shelby, R- Ala., reported out the Financial Regulatory Improvement Act of 2015 for floor consideration in the Senate. Among the regulatory requirements reformed by the act is Section 114, which would preserve the ability of the more than 1,400 Habitat for Humanity affiliates across the country to receive donated appraisals without violating federal appraiser independence regulations. This provision was also introduced as stand-alone legislation, S 1344, sponsored by Senator Rob Portman, R-Ohio, last week.
"Clarification regarding donated appraisals will make a major difference to Habitat for Humanity affiliates by keeping their costs down and enabling them to serve more families across the country," said Christopher Ptomey, Habitat for Humanity International's director of government relations. "For much of Habitat's nearly 40-year history of providing affordable, no-profit mortgages to qualified partner families around the United States, many appraisers have partnered in our mission to end poverty housing by voluntarily donating their services to Habitat affiliates, and we hope they will continue to be able to do so. Habitat thanks Chairman Shelby for his leadership on this matter and urges the Senate to approve this common-sense reform."
Habitat affiliates annually provide mortgages to thousands of qualified, lower-income families. By sparing the cost of appraisals, this legislation will save Habitat affiliates millions of dollars annually, enable Habitat to allocate those funds to other critical services and maximize the impact of limited donor and government funding for qualified families.
Sign Habitat for Humanity's petition to support the federal housing programs that help Habitat partner with families across the United States to build decent and affordable housing. See a copy of Habitat's press release regarding the introduction of this Financial Regulatory Improvement Act of 2015.