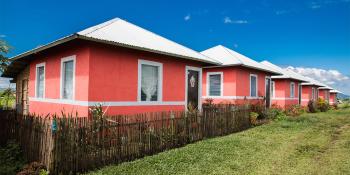 Aug. 14, 2015 public statement
Habitat for Humanity applauds inclusion of goal addressing urbanization and adequate housing in new Sustainable Development Goals
ATLANTA (August 14, 2015) – After three years of extensive planning, consultation and negotiations, 193 countries have come together in support of a new universal and integrated framework for global development, unprecedented in its scope and breadth of commitment. The final outcome document, Transforming our World: The 2030 Agenda for Sustainable Development, was released this week and is set for adoption by the U.N. General Assembly next month.
The document sets forth 17 goals designed to guide global development over the next 15 years. Recognizing the impact of rapid, global urbanization, Goal 11 calls on governments to "make cities and human settlements inclusive, safe, resilient and sustainable." The first target under this goal states that by 2030, the world must "ensure access for all to adequate, safe and affordable housing and basic services and upgrade slums."
"We applaud the efforts of the many individuals and organizations involved in creating the Sustainable Development Goals and look forward to diving into the challenging but critical task of global implementation of this framework," said Chris Vincent, vice president for government relations and advocacy at Habitat for Humanity International. "Of the many important issues that the 17 goals of the new agenda address, one of the most critical is the increasing role that cities and human settlements play in building a sustainable future."
With the new goals in hand, the U.N. is now tasked with developing indicators to measure progress.
"To ensure that the Goal 11 is met, Habitat for Humanity encourages the U.N. indicator task team to move beyond the current slum indicator set forth in the Millennium Development Goals and require the measurement of both tenure and affordability when addressing housing for those most in need," said Vincent. "To realize a world where everyone has access to adequate and affordable housing, countries must consider all elements: durability, space, access to water and sanitation, security of land tenure and cost, spending no more than 30 percent of their income on housing." 
Read more information on Habitat's engagement in this process.