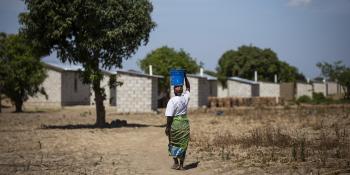 Habitat's support of Sustainable Development Goal 11
Prioritizing the 2030 Agenda for sustainable cities and communities
As a leading global advocate for housing at the center, Habitat for Humanity is leading a targeted advocacy campaign on Sustainable Development Goal 11.
The 2030 Agenda for Sustainable Development
In 2015, 193 national governments came together at the U.N. and adopted the 2030 Agenda for Sustainable Development — also known as the Sustainable Development Goals — to address global development challenges through an intersectional approach. This collection of 17 goals and 169 targets forms a framework to guide global development.
Addressing the rapid growth of cities
It's projected that by 2050, two-thirds of humanity — 6.5 billion people — will be urban, especially in the developing world. Governments cannot achieve sustainability without significantly transforming the way we build and manage our urban spaces. To address this reality, Habitat has focused our attention on advocating for and supporting commitments to SDG 11 and its targets.
SDG 11 recognizes the need to make cities and human settlements inclusive, safe, resilient and sustainable. Specifically of note is target 11.1: "By 2030, ensure access for all to adequate, safe and affordable housing and basic services and upgrade slums. Integrated housing frameworks support economic, social and environmental policy planning and infrastructure linkages across the urban-rural ecosystem, building increased resiliency."
Habitat's support of SDG 11
Habitat works to ensure that the countries that adopted the SDGs prioritize working toward SDG 11. In order to do so, we promote the development of the tools, training and data sources that a national government would need to build its capacity for reporting. To achieve SDG 11 by 2030, all stakeholders must work together to find success. That's why we engage the U.N., local and regional governments and civil society organizations to play a role in supporting commitments to this target.