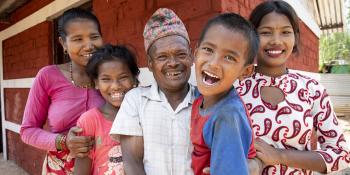 International advocacy
How Habitat is advocating for housing around the world
Billions of people worldwide lack an adequate home. Millions live in constant fear of eviction. Disasters displace millions more from their homes by each year, endangering their future.
Nearly 1 in 4 people lack safe drinking water in their homes. In many places, women and marginalized groups are systematically and routinely discriminated against, left without a voice in decision making processes and denied their rights to land.
Habitat for Humanity addresses these and other essential housing needs in more than 70 countries. But we recognize that we need to do more than build to fully reverse these grave housing realities. That's why Habitat also engages in advocacy at every level of government to remove barriers to affordable housing and eliminate threats to housing security.
In our Global Policy and Advocacy Agenda, you can learn more about Habitat for Humanity's advocacy to promote policies that:
Ensure access to adequate housing options for all.
Expand affordability through housing finance options.
Promote secure tenure rights and equitable access to land for shelter.
Enable stakeholder engagement and community participation.
Foster resilient and responsive communities through housing.