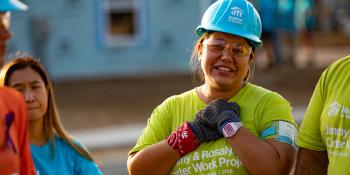 Carter Work Project kicks off with spirit
The sound of song, prayer and then hammers took hold of the Habitat for Humanity work site on the first build day of the 35th Jimmy & Rosalynn Carter Work Project in Mishawaka, Indiana.
At morning devotions, President Carter told future Habitat homeowners and the hundreds of volunteers gathered that every person has the talent and gifts to live a meaningful life. "Everyone of us is blessed by God with life, with the freedom to decide what kind of person we want to be," President Carter said. "Now, let's go see where we are going to work."
This week, volunteers are working alongside future Habitat homeowners in Mishawaka and South Bend to build or improve 41 houses. Volunteers have come from as close as a mile away to as far as London, England.
Some volunteers have built with the Carters for many years. For others, this is a new experience. This is the first Carter Work Project for Brian Schoen, a computer interface analyst from Indianapolis who volunteers regularly with his local affiliate. Schoen's late father was also a fixture on Greater Indianapolis Habitat for Humanity build sites. "I wanted to come to honor him," Schoen said.
Some of the regular Habitat volunteers that are raising walls and framing doors this week are familiar names: President and Mrs. Carter, of course, who are joined by country music stars Trisha Yearwood and Garth Brooks as well as talk show host David Letterman.
Another familiar face, country artist Eric Paslay, treated the Habitat gathering at breakfast to his song "Deep As It Is Wide," which is about the power of love. "The ultimate reason we are here is to love each other and take care of each other," Paslay said.
At Sunday's opening ceremonies, future homeowners Benito and his wife, Jhunixa, spoke for the families as they thanked President and Mrs. Carter, volunteers and donors. "Knowing that my children can grow in a home that their mother and father have worked so hard for means so much," Benito said. "We shall have a new beginning."
He also offered his hopes for the other families, his soon-to-be neighbors. "May your new homes' keys be the keys of success for every individual in your family. May your walls know joy. May every room hold laughter and may every window open to great possibilities."