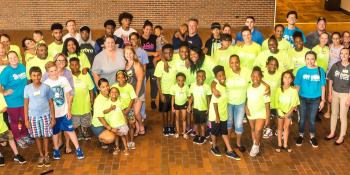 Building community during the Carter Work Project 2018
Cleora grew up just down the road from where her new home will be. Nusrat some 8,000 miles away. For each, their new Habitat for Humanity house will be defined by perseverance, hard work and, finally, reward.
The two women are among the families who will become homeowners thanks to Habitat volunteers and President and Mrs. Carter during the 35th Jimmy & Rosalynn Carter Work Project in Mishawaka and South Bend, Indiana.
The families have grown close putting in sweat equity hours and attending homeownership classes. "I already know my neighbors," says Nusrat, originally from Bangladesh. "They're such good people. I like them all."
Those good people include a military veteran, nursing student, pharmacy technician, teacher's assistant, team mom, caregiver and foster parents. Some have come from faraway while others are native Hoosiers.
"Every one of us deserves a decent place to live, and everyone is truly represented in this neighborhood," says Jim Williams, president and CEO of Habitat St. Joseph County, host of the 2018 Carter Work Project.
For Cleora, stability is especially important when it comes to caring for JaNaiya, her 11-year-old daughter with autism. "I know that she will be in my care for the majority of her life," Cleora says, "and I want her to be comfortable and have consistency."
Cleora is also excited about what this new community means for her children. "I'm so excited for them to have stability, to have room to play, to know their neighbors," she says. "I can't wait for them to have the knowledge that they can put down roots and build relationships with the people around them."
The neighborhood will be home to a lot of children, some 45 of them, who won't lack for a playmate. Isabella can't wait to ride her bike on her new street. "We will have wide streets where cars go slower, and the neighborhood is safe," the little girl says.
Charity is looking forward to her new elementary school, and the school is looking forward to having her. Neighborhood schools have met with Carter Work Project families throughout the summer to make sure they feel welcome.
The stability these families long for hinges on having an affordable place to live. Nusrat immigrated from Bangladesh to build a better life for herself. After giving birth to her son, Nishorgo, she's worked hard to make sure he has a chance at that better life, too.
She constantly and quietly sought improvement, taking out books from the library to teach herself the calculations, formulas and laws necessary to work as a pharmacy technician.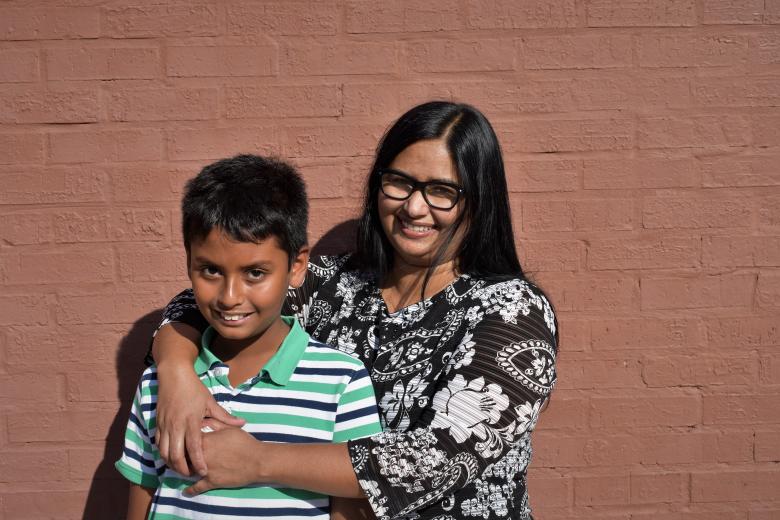 But with rent increases continually outpacing any income gains, Nusrat has struggled to find the means to give her son, now 10, the home that she knew he deserved. For years, she has dreamed of giving him the room he needs to run and play and the freedom he needs to be a kid. In the small one-bedroom apartment that they share, the two are careful to tread lightly so as not to disturb the neighbors below.
Not only will their new Habitat home more than double their livable space, but it also will come at half the monthly cost of their current apartment. Nusrat is excited to finally start saving and investing in her family's education, health and well-being.
Of all of the good that has come from this homeownership journey, Nusrat says the friendships that she has made with her soon-to-be neighbors have been the highlight. "I get emotional just thinking about it."