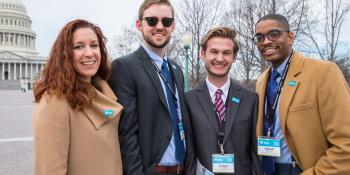 Use these resources to learn more about policy solutions the Cost of Home campaign is working to achieve, the need for home affordability and the ways local Habitat organizations are addressing the need for home affordability in their communities. 
Cost of Home policy platform
The goal of the Cost of Home campaign is to increase home affordability for 10 million people by influencing policies and systems at the local, state and national level.
This includes policy solutions to increase the supply and preservation of affordable homes, equitably increase access to credit, optimize land use for affordable homes, and ensure access to and development of communities of opportunity. Read more in the Cost of Home policy platform.
Cost of Home federal policy agenda
The Cost of Home federal policy agenda outlines 10 high-impact federal policy solutions that Habitat will collectively advocate for under the umbrella of the Cost of Home campaign to significantly improve access to safe and affordable homes over the next five years.
Learn more about opportunity vouchers and federal incentives to accelerate state and local zoning reforms — two of the top priorities in the campaign's federal policy agenda. 
Cost of Home campaign progress report
This annual update provides a snapshot of the collective progress being made to change housing policies and systems through the Cost of Home campaign.
State of affordability fact sheets
With nearly 18 million U.S. households paying half or more of their income on a place to live, advocating for home affordability is as important as ever. Find more about the need in your state or others by viewing the collection of state of affordability fact sheets.
Local policy successes
These case studies serve as examples of how Habitat organizations have successfully sought to identify and advocate for policy solutions to affordable housing challenges in their communities, and as a guide for successful advocacy. While each profile and policy might not be an effective solution for every community, the case studies provide an outline for how organizations can create lasting change for their service area through advocacy.
Increasing the supply and preservation of affordable homes
Winning $1.5 billion for affordable housing in the Bay Area

Habitat East Bay/Silicon Valley took the plunge into local advocacy in a big way in 2016. Faced with an unprecedented regional housing crisis and the elimination of California's largest source of funding for affordable housing, Habitat joined other housing organizations in supporting a pair of county-level "bond" measures that would raise significant new funds for affordable rental housing and homeownership housing. On election night, Habitat's investment paid off spectacularly, as voters approved $1.5 billion in new funds for housing efforts in Alameda and Santa Clara counties.
Securing new funding for affordable housing in North Carolina

Rising housing costs are changing the character of Chapel Hill and other towns in Orange County, now one of the most expensive places to live in North Carolina. To stem the overall loss of homes for lower-income residents, Habitat for Humanity Orange County took action in 2013 to form a new housing coalition to encourage the county to adopt new sources of housing funding.

Using creative educational tactics and joining forces with school partners and business leaders, the new coalition persuaded the town of Chapel Hill to institutionalize a practice of setting aside a "Penny for Housing" —$700,000 annually. The coalition then persuaded Orange County as a whole to adopt a $5 million affordable housing bond. The two new funding sources are already enabling the construction of new senior townhomes and new construction and preservation of affordable rental housing that would have been prohibitively difficult otherwise.
Creating South Dakota's first true housing trust fund

In 2010, Habitat South Dakota began working diligently to build a broad coalition to persuade the state legislature and governor to create South Dakota's first state-funded housing trust fund. After three years of outreach to economic development allies, research on potential dedicated sources, and persistent meetings with state legislators, Habitat and the coalition won bipartisan support for a Housing Opportunity Fund on the very last night of the 2013 legislative session.

Since then, the Housing Opportunity Fund has served 1,770 South Dakota families and has made more than $11 million available statewide for the development and preservation of new affordable homes and rental housing, in addition to homelessness prevention activities
Equitably increasing access to credit
Increasing down payment assistance to D.C. residents

Advocating for affordable homeownership as part of a "continuum of housing," Habitat Washington, D.C., and its partners in the Coalition for Nonprofit Housing and Economic Development persuaded the District of Columbia government to nearly double the city's down payment assistance program in 2016, reversing major cuts. The victory is helping more low-and moderate-income households purchase their first home in a city where high home prices and disappearing low-cost rentals are making it hard for many families and workers to remain in the city where they have deep roots.
Blocking predatory lending in Indiana

In early 2018, Habitat Indiana played a pivotal role in stopping state legislation that would have authorized new types of high-cost loans offered by payday lenders, with interest rates up to 222% per year. In spite of huge financial and lobbying support from the national payday loan industry, Habitat and coalition partners were able to persuade the state Senate to block the payday lending expansion, securing an important victory for very low-income residents targeted by destabilizing, high-rate loans.
Expanding access to mortgage credit in Oregon

With housing costs heating up across Oregon, Habitat affiliates and other housing advocates persuaded the state legislature in 2018 to triple the state's document recording fee dedicated to affordable housing, which increased funding for down payment assistance, homeownership counseling and other affordable housing programs.

The legislation also created a new program allowing homebuyers to take a state tax deduction for saving money toward a down payment. Advocates are now gearing up to expand Oregon's exemplary Individual Development Account, or IDA, program, which helps thousands of lower-income Oregonians save up for a down payment, home repairs or other purposes by matching their savings 3-to-1.
Optimizing land use for affordable homes
Reforming Austin's zoning code to increase affordability citywide

As housing costs rise rapidly, Austin Habitat is speaking up for fairer land use regulations to make it easier to address the Texas capital's need for housing in places that are walkable, served by transit, and near jobs.

Habitat has worked to include a greater diversity of participants in deliberations about the city's land use plan and zoning code overhaul, and built momentum for zoning changes that would promote greater affordability and broader access to well-connected neighborhoods. At the same time, Habitat has energized a coalition that recently persuaded the City Council to place the city's largest-ever affordable housing bond —$250 million —on the November ballot.
Streamlining approvals for affordable housing in California

Habitat California helped pass breakthrough legislation in 2017 that streamlines the approvals process for affordable housing developments statewide, significantly reducing the time, expense and risk of the development process. Though overshadowed by major funding victories that year, the legislation known as SB 35 is already reducing zoning barriers to affordable housing in accessible, job-rich neighborhoods.
Helping community land trusts grow throughout New York City

Over the past four years, Habitat for Humanity New York City has worked tirelessly to create lasting affordable homeownership opportunities beyond its own building efforts. By mobilizing volunteers, engaging City Council members, advocating through the media and helping to form a new coalition, Habitat has won support for legislation and access to new financial resources that will help community land trusts, or CLTs, take root in more city neighborhoods and help residents "own" a part of their community in the face of rapid gentrification and displacement.
Ensuring access to and development of communities of opportunity
Using advocacy to accelerate revitalization in Newburgh, New York

Over the past six years, Habitat Greater Newburgh has played a major role in revitalizing highly distressed pockets of Newburgh. While working collaboratively to transform one block at a time through home renovations and new construction, Habitat also has nurtured new advocacy efforts, including the formation of a new neighborhood association, that have led to millions in new funding for asbestos and lead remediation, and major street improvements that are improving the health and safety of targeted Newburgh neighborhoods.
Empowering residents to drive the redevelopment of a trailer park

Habitat Greater Charlottesville in Virginia is redeveloping a mobile home park into a financially sustainable, mixed-income, mixed-use community, with the residents leading the way. To realize a community-defined vision for redevelopment, Habitat and the residents are pushing the boundaries of the county's zoning code as residents develop the knowledge and skills needed to plan the redevelopment and advocate for themselves.
Preventing and reviving vacant properties

Over the past few years, Habitat Philadelphia in Pennsylvania has helped propel equitable neighborhood revitalization through two important policies.

In 2016, Habitat helped bring about a major expansion of Philadelphia's home repair programs. Through petition gathering, testimony and expert advice, Habitat helped support a $100 million bond and subsequent legislation that significantly boosted repair assistance to very-low-and extremely low-income homeowners and established a new affordable repair loan program for moderate-income homeowners. Together these programs are helping Philadelphia homeowners make critical repairs to homes that are unsafe, unhealthy and on the verge of being lost.

In 2017, Habitat Philadelphia helped persuade the city to set affordable housing targets for its new municipal land bank, so that properties already lost to abandonment can be repurposed not just for market-rate housing but also for homes with lasting affordability.