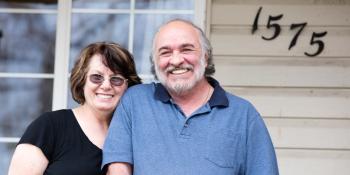 Why housing affordability?
Stable housing — housing that is safe, healthy and affordable — is foundational to individuals and families, to the communities in which we live and to the economies in which we all participate.
Increased family stability and economic mobility, a greater sense of dignity and civic pride, stronger and more vibrant communities that can attract and keep business and manufacturing — these are all connected to stable, decent, affordable housing.
But millions in the U.S. struggle daily with housing costs. Even before the pandemic, 1 in 3 families were already paying more than 30% of their income on housing costs. Worse, 1 in 7 families were already paying half or more on housing — a level deemed "severely cost-burdened."
Through the Cost of Home campaign, Habitat for Humanity is advocating for policy solutions that will improve home affordability for rental and ownership. Find out more about housing affordability where you live, and read about the impact of affordable homes and why housing policies are so vital.
Housing affordability by state
Select a state to learn about the need for home affordability.