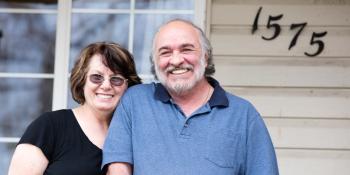 Why housing affordability?
Stable housing — housing that is safe, healthy and affordable — is foundational to individuals and families, to the communities in which we live and to the economies in which we all participate.
Increased family stability and economic mobility, a greater sense of dignity and civic pride, stronger and more vibrant communities that can attract and keep business and manufacturing — these are all connected to stable, decent, affordable housing.
Housing costs should be no more than 30% of household income. But millions in the U.S. struggle daily with housing costs. 1 in 3 families pay more than 30% of their income on housing costs. 1 in 6 families pay half or more on housing — a level deemed "severely cost-burdened."  
That's 40.6 million cost burdened homeowners and renters who are forced to choose between paying for housing or paying for necessities such as food, healthcare or transportation.
It is critical to address issues of home affordability at scale and this is why housing policies are so vital.  
Through the Cost of Home campaign, local Habitat for Humanity organizations have successfully advocated for 300+ housing policy changes to provide improved access to affordable homes for 6.6 million people. Our goal is to improve access to affordable homes for 10 million people.  
Find out more about housing affordability where you live, and join us in advocating for policies that make the cost of home something all Americans can afford.