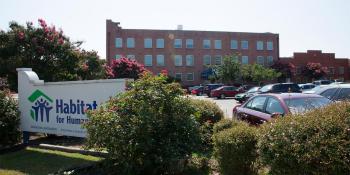 FAQ
Habitat for Humanity EMEA
What is Habitat for Humanity?
Habitat for Humanity is a global nonprofit housing organization working in nearly 1,400 communities across the United States and in about 70 countries around the world. Habitat's vision is of a world where everyone has a decent place to live. Habitat works toward our vision by building strength, stability and self-reliance in partnership with people and families in need of a decent and affordable home.
How does Habitat for Humanity help families?
People in your community and all over the world partner with Habitat to build or improve a place they can call home. We help homeowners build their own homes alongside volunteers, advocate for policy change to protect property ownership and inheritance rights, and gain access to products and services to help them finance their homes.
Does Habitat for Humanity only build new houses?
Habitat for Humanity works in a number of different ways to create decent, affordable housing.
In addition to new construction, Habitat also renovates existing homes in many communities, particularly in urban areas.

Habitat for Humanity helps people repair and improve their own homes and neighborhoods.

Habitat's Disaster Response works with local communities to address a variety of housing needs after natural disasters.
Habitat's advocacy work raises awareness and support for decent and affordable housing around the world.

Habitat works with partner organizations to serve even more families through innovative financing methods.
How can I become a volunteer?
There are many ways how to volunteer with Habitat for Humanity:
Volunteer locally

Travel and build

Volunteer long-term

Volunteer as part of a group

Volunteer as part of a special event
Where does Habitat for Humanity EMEA work?
Habitat for Humanity in Europe, Middle East, Africa works in more than 30 countries through national organizations and partners. Find out more about where we work and what we do through our national organizations.
Does Habitat for Humanity take donations?
Habitat depends on financial donations to fund our work. These donations help families build a place they can call home. 
How are donations distributed and used?
Habitat for Humanity relies on gifts from individuals, corporations and other groups to help families in need of decent and affordable homes around the world. All donations of any amount are deeply appreciated.
Designated donations are allocated in support of programs of the donor's choosing.
Undesignated gifts are invested through the Global Impact Fund where they can have the greatest impact.
Habitat's Global Impact Fund helps:
Design and replicate innovative programs to serve more low-income families.

Build the capacity of our network of national organizations.

Cover other costs necessary to ensure that Habitat fulfills its mission with excellence.

Habitat's most recent audited financial statement is available online.
What is the organizational structure of Habitat for Humanity International?
An international board of directors oversees the work of Habitat for Humanity.
The Habitat headquarters are operated by an administrative staff, professional and support employees, and volunteers.
How does Habitat for Humanity work with governments?
Habitat advocates on behalf of low income families and those in need of shelter.  We monitor public policy and other national, regional and global bodies as well as work with housing related organizations to increase access to decent, affordable housing available to people around the world.
Habitat accepts government funds as long as they have no conditions that would violate our principles or limit our ability to proclaim our Christian identity.
Is Habitat for Humanity a Christian organization?
Yes, we are a global nonprofit, ecumenical Christian housing organization. All who desire to be a part of this work are welcome, regardless of religious preference or background. We have a policy of building with people in need regardless of race or religion. We welcome volunteers and supporters from all backgrounds.
Donate now
Every donation makes a difference.