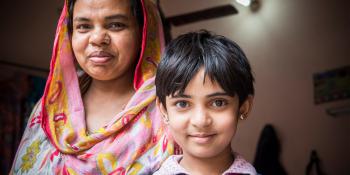 Habitat for Humanity and IKEA Foundation to improve homes for children in India and Kenya
DELHI/ NAIROBI, 15 August, 2016 – International non-profit housing organization Habitat for Humanity and the IKEA Foundation are partnering for the first time. A €5.3 million grant from the IKEA Foundation will help families in poor communities in India and Kenya to improve homes through access to small loans and affordable, eco-friendly building materials and services.
The program will help 15,000 families in India to improve their housing. Habitat for Humanity is ensuring 45,000 children have a healthier home to play, learn and grow up in. In Kenya, Habitat for Humanity will conduct an analysis of the market for building materials and construction services. It will leverage capital and offer technical assistance to local microfinance institutions to set up small loans for home improvements.
"By 2050, 7 in 10 people will live in cities, making the current housing crisis even more important to tackle. We believe that all children should have a safe place to call home and a healthy start in life. This is why we are supporting Habitat for Humanity with a €5.3 million grant to help families create affordable, healthy homes for their children, using eco-friendly building materials and services," said Jonathan Spampinato, Head of Communications at the IKEA Foundation.
"Because of rapid urbanization, more and more families and children find themselves living in poor and inadequate conditions," says Heather Alner, associate director of corporate engagement at Habitat for Humanity Europe, Middle East and Africa. "This partnership will allow us to catalyze the demand and supply side of the affordable housing market in India and Kenya. Habitat for Humanity will then go one step further by matching finance with construction technical assistance to lenders. As a result, families will be able to have healthier homes."
Later in the program, Habitat for Humanity will pilot and scale housing related loans and attempt to introduce local environmentally friendly construction materials and services into the market. The organization has developed know-how for using microfinance to improve housing conditions for excluded populations and thus bring about social change. At the moment, only 2 percent of the globally available microfinance capital is spent on housing products. Habitat's goal is to grow it to 10 percent.
About the IKEA Foundation
The IKEA Foundation (Stichting IKEA Foundation) is the philanthropic arm of INGKA Foundation, the owner of the IKEA Group of companies. We aim to improve opportunities for children and youth in some of the world's poorest communities by funding holistic, long-term programmes that can create substantial, lasting change. The IKEA Foundation works with strong strategic partners applying innovative approaches to achieve large-scale results in four fundamental areas of a child's life: a place to call home; a healthy start in life; a quality education; and a sustainable family income, while helping these communities fight and cope with climate change. Learn more at www.ikeafoundation.org and www.facebook.com/IKEAfoundation
About Habitat for Humanity International
Driven by the vision that everyone needs a decent place to live, Habitat for Humanity has grown from a grassroots effort that began on a community farm in southern Georgia in 1976 to a global nonprofit housing organization in nearly 1,400 communities across the U.S. and in over 70 countries. People partner with Habitat for Humanity to build or improve a place they can call home. Habitat homeowners help build their own homes alongside volunteers and pay an affordable mortgage. Through financial support, volunteering, or adding a voice to support affordable housing, everyone can help families achieve the strength, stability and self-reliance they need to build better lives for themselves. Through shelter, we empower. To learn more, visit www.habitatemea.org.