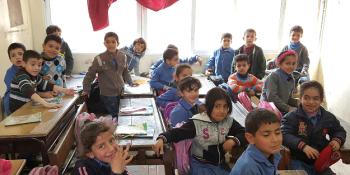 4,000 children will benefit from improved school facilities through SlovakAid development project
Bratislava (April 4, 2017) – The Syrian crisis continues to have a profound impact on Jordan's educational system and future opportunities of refugees. Last year alone, more than 200,000 Syrian children of school age were registered as refugees in host communities in Jordan. Only half of them attend schools. Many children are out of formal education since their families cannot afford the costs of transportation and study materials to send children to school.
Space in schools is another major problem, especially in Amman, Irbid, Mafraq and Zarqa. Almost half of schools, 46 percent, are crowded and have poorly maintained facilities. Many schools run double-shift schedules to accommodate all children from the community. Refugees have uneven access to education and as a result their children show lower academic achievements than their Jordanian counterparts. Last year, out of 1,600 Syrian children who took state exams only around 500, 33 percent, passed.
International housing organization Habitat for Humanity and SlovakAid, a development arm of the Slovak government, are launching a project to renovate and extend school facilities in the areas with high density of Syrian refugees. SlovakAid has offered a €200,000 grant to support the project. Habitat for Humanity, through its Europe, Middle East and Africa regional office, will renovate and upgrade eight schools in and around Amman and Irbid, central and northern parts of Jordan. As a result, around 4,000 children, aged 6-18, will be able to attend improved schools.
"Currently, poor learning environments compromise the quality of education in Jordan. Many students study in overcrowded classrooms and schools, particularly in urban areas. We want to change this by improving school buildings and reducing school drop-out rates. That is why Slovakia feels that it is important to support such projects," says Dr. Ing. Zuzana Letková, Director of SlovakAid.
"Every child needs schools with adequate and well-maintained physical structures. By using our construction expertise, Habitat will repair existing buildings and add where necessary supplementary structures. Still a lot more must be done. This is only a small drop in the sea of need. We hope that the international community will increase its efforts to support Syrian refugees and their host communities," says Torre Nelson, Area Vice President for Europe, Middle East and Africa at Habitat for Humanity.
SlovakAid and Habitat for Humanity are also currently cooperating on another schools renovation project in Lebanon. Lebanon along with Jordan has hosted the largest number of Syrian refugees. Habitat for Humanity is renovating and building extensions for six schools. First construction works are scheduled to start in May, 2017
About SlovakAid
Slovak Agency for International Development Cooperation (SAIDC) is responsible for managing bilateral and trilateral development projects within the responsibility of the Ministry of Foreign and European Affairs. SAIDC represents an administrative and contracting unit for bilateral programming; its responsibilities include contracting, implementation, monitoring and evaluation of bilateral and trilateral development projects. To learn more, visit www.slovakaid.sk.
About Habitat for Humanity
Driven by the vision that everyone needs a decent place to live, Habitat for Humanity began in 1976 as a grassroots effort. The housing organization has since grown to become a leading global nonprofit working in more than 70 countries. Families and individuals in need of a hand up partner with Habitat for Humanity to build or improve a place they can call home. Through financial support, volunteering or adding a voice to support affordable housing, everyone can help families achieve the strength, stability and self-reliance they need to build better lives for themselves. Through shelter, we empower. To learn more, visit habitat.org/emea.