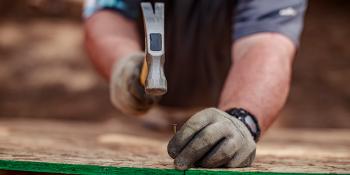 MetLife Community Week 2019
ATLANTA (May 15, 2019) – Hundreds of MetLife employees in Europe, the Middle East and Africa will work alongside Habitat for Humanity homeowners for home-building and community improvement projects as part of the company's fourth annual Community Week, beginning mid-May.
The initiative – which involves both Habitat and the Special Olympics – is funded by MetLife Foundation, the philanthropic arm of MetLife. MetLife Foundation has a long tradition of supporting initiatives that engage MetLife volunteers in activities that improve quality of life and increase opportunities for the underserved.
As part of Community Week, about 200 MetLife employees in eight countries will build with Habitat.
"We are delighted to be able to build on our strong, multi-year partnership with Habitat for Humanity and Special Olympics," said Dirk Ostijn, Head of EMEA, MetLife. "More than 750 employees in over 20 markets across EMEA volunteered last year and were clear that they want to do more this year. Community Week offers all of us a fantastic opportunity to give something back to the community we work in."
Learn more about Habitat's work in Europe, the Middle East and Africa.
About MetLife
MetLife, Inc. (NYSE: MET), through its subsidiaries and affiliates ("MetLife"), is one of the largest life insurance companies in the world. Founded in 1868, MetLife is a global provider of life insurance, annuities, employee benefits and asset management. Serving approximately 100 million customers, MetLife has operations in more than 40 countries and holds leading market positions in the United States, Japan, Latin America, Asia, Europe and the Middle East. 
About MetLife Foundation 
At MetLife Foundation, we believe financial health belongs to everyone. We bring together bold solutions, deep financial expertise and meaningful grants to build financial health for people and communities that are underserved and aspire for more. We partner with organizations around the world to create financial health solutions and build stronger communities, engaging MetLife employees to help drive impact. To date, our financial health work has reached more than 6 million low-income individuals in 42 countries. 
About Habitat for Humanity
Driven by the vision that everyone needs a decent place to live, Habitat for Humanity began in 1976 as a grassroots effort on a community farm in southern Georgia. The Christian housing organization has since grown to become a leading global nonprofit working in local communities across all 50 states in the U.S. and in more than 70 countries. Families and individuals in need of a hand up partner with Habitat for Humanity to build or improve a place they can call home. Habitat homeowners help build their own homes alongside volunteers and pay an affordable mortgage. Through financial support, volunteering or adding a voice to support affordable housing, everyone can help families achieve the strength, stability and self-reliance they need to build better lives for themselves. Through shelter, we empower.