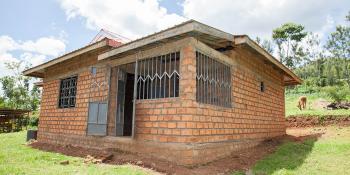 Habitat's Terwilliger Center for Innovation in Shelter invites startups in Southeast Asia and South America's Andean region to meet global housing challenges.
NAIROBI (Oct. 23, 2020) – The ILO's Impact Insurance Facility and global non-profit housing organization Habitat for Humanity have partnered with the financial services group Britam for a new project on "Developing new property insurance solutions".
In Kenya and many other countries, entrepreneurs, micro and small enterprises use their homes in business operations, be this in running small businesses from home or using their home for stock storage, for example. Therefore, this project not only supports people in protecting their homes, but in many instances, their business operations too.
Britam was selected based on a winning proposal to develop new and innovative property insurance solutions for the low-income and underserved market segments. The call for proposals was jointly issued by the ILO's Impact Insurance Facility and Habitat for Humanity's Terwilliger Center for Innovation in Shelter.
George Mugweru, housing market systems specialist at Habitat for Humanity said, "We work towards building and expanding inclusive housing markets in partnership with private and public sectors and families in need of decent and affordable housing. We identified an urgent need for property insurance to support this objective in Kenya. Research has found that 35 percent of Kenyans have reported losing their homes, businesses or property due to fire, flood, theft or eviction in the last two years. We believe through this project with the ILO to incubate innovative property risk management solutions."
"Across the world, the market for property insurance for low-income segments is relatively nascent. This is also the case in Africa where, in 2015, 4.5 million people had property insurance, significantly fewer than the 46.4 million people covered by life insurance. We are hoping that this partnership will help in unlocking this unmet market potential." added Craig Churchill, Chief of Social Finance and Impact Insurance at the ILO. 
Commenting on the selection, Britam's Group Managing Director, Dr. Benson Wairegi said, "We are delighted to have been selected as the host organization for this project. This is testament of our capability to innovate and provide innovative insurance products to the underserved market segments. Britam is not new to this segment as we have been providing solutions to the emerging and underserved consumers since 2007. Today we are the largest micro-insurance provider in Kenya."
The project will involve developing innovative and client-centric products and processes that are cost effective and viable in the long term. ILO and Habitat for Humanity will support Britam through the product innovation cycle, by building capacity and establishing distribution and other key partnerships. Support will also be provided through technical assistance and the placement of an Impact Insurance Fellow with Britam for up to two years.
About Habitat for Humanity
Driven by the vision that everyone needs a decent place to live, Habitat for Humanity began in 1976 as a grassroots effort on a community farm in southern Georgia. The Christian housing organization has since grown to become a leading global nonprofit working in local communities across all 50 states in the U.S. and in more than 70 countries. Families and individuals in need of a hand up partner with Habitat for Humanity to build or improve a place they can call home. Habitat homeowners help build their own homes alongside volunteers and pay an affordable mortgage. Through financial support, volunteering or adding a voice to support affordable housing, everyone can help families achieve the strength, stability and self-reliance they need to build better lives for themselves. Through shelter, we empower. To learn more, visit habitat.org or follow us on Twitter @HabitatEMEA.
About TCIS
The Terwilliger Center for Innovation in Shelter, a unit of Habitat for Humanity International, works with housing market actors to expand innovative and client-responsive services, products and financing so that households can improve their shelter more effectively and efficiently. The goal of the Terwilliger Center is to make housing markets work more effectively for people in need of decent, affordable shelter, thereby improving the quality of life for low-income households. To learn more, visit habitat.org/tcis.