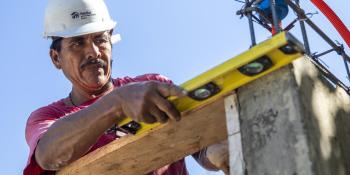 Holcim and Habitat to pilot new business model to accelerate access to affordable housing
Habitat for Humanity and Holcim have signed a strategic partnership agreement to pilot an inclusive business model aimed at addressing affordable housing challenges in Mexico.
BRATISLAVA (June 3, 2022) — In Mexico, 53.3 million people do not have the financial means to buy or build decent housing, despite the right to housing being enshrined in the constitution. Habitat for Humanity's Terwilliger Center for Innovation in Shelter and Holcim have announced a new partnership to provide low-income families with better access to affordable housing products, services and financing. The project will be implemented in Veracruz state, where a quarter of families lack adequate housing. 
"It will require an estimated US$16 trillion to close the global affordable housing deficit, only US$3 trillion of which is estimated to come from governments and nonprofits. Closing this gap becomes possible when the private sector steps into new markets to provide affordable housing products and services," said Jonathan Reckford, CEO of Habitat for Humanity International. "This partnership will highlight the critical role that private sector partners like Holcim can play in increasing access to affordable housing for low-income families." 
Habitat's Terwilliger Center and Holcim will pilot an inclusive business model that addresses gaps in three critical areas of the affordable housing market: materials, financing and construction services. Habitat's Terwilliger Center will undertake a detailed market scoping study to map both housing supply- and demand-side factors in Veracruz, including preferences, needs and payment capabilities of homebuilders and the value proposition of hardware stores, Holcim distributors and microfinance institutions.
Using this data, Habitat and Holcim work with local microfinance institutions and hardware stores to develop construction loan products that help families access to high-quality construction products and materials, including at Holcim's Disensa stores across the state. Disensa is the largest network of hardware in Latin America; twenty-five stores in six municipalities across Veracruz will participate in the pilot.
"With today's rapid urbanization, over three billion people are expected to need affordable housing by 2030. I am excited to partner with Habitat for Humanity to implement an innovative business model that leverages digital solutions to improve living standards for all," said Jan Jenisch, CEO of Holcim.
Only 30 percent of families in Mexico have access to the formal credit and loan options. Unable to secure a mortgage or traditional loans, most families are left to build their own homes bit-by-bit as finances allow. Work starts and stops as resources are available, often resulting in deterioration of supplies, increased costs, and inconsistent quality of housing.
Through the new initiative, families will be able to access new construction loans products, as well as information on building materials, Disensa stores and vetted labor, through the platform Construye Paisano – developed by iBuild Global for East Africa and now entering the Mexican market for the first time. Digital marketplaces, Construye Paisano, help address the need for transparency, accountability and trust between low-income households and service providers by improving the traceability of informal payments and increasing access to a range of construction products. Habitat's Shelter Venture Fund was an early investor in iBuild and has provided technical assistance to support the startup's expansion into Latin America.
This project builds on the success of ViviendApp, a mobile application developed Habitat's Terwilliger Center and the Inter-American Development Bank's IDB Lab, which helped 24,000 families access the information and tools they need to improve their homes.
About Habitat for Humanity
Driven by the vision that everyone needs a decent place to live, Habitat for Humanity began in 1976 as a grassroots effort and has since grown to become a leading global nonprofit working in more than 70 countries. Through financial support, volunteering or adding a voice to support affordable housing, everyone can help families achieve the strength, stability and self-reliance they need to build better lives for themselves. To learn more, donate or volunteer, visit habitat.org.
About Habitat's Terwilliger Center for Innovation in Shelter
The Terwilliger Center for Innovation in Shelter, a unit of Habitat for Humanity International, works with housing market actors to expand innovative and client-responsive services, products and financing so that households can improve their shelter more effectively and efficiently. The goal of the Terwilliger Center is to make housing markets work more effectively for people in need of decent, affordable shelter, thereby improving the quality of life for low-income households. To learn more, follow us on LinkedIn and Twitter.
About Holcim
Holcim builds progress for people and the planet. As a global leader in innovative and sustainable building solutions, Holcim is enabling greener cities, smarter infrastructure and improving living standards around the world. With sustainability at the core of its strategy Holcim is becoming a net zero company, with its people and communities at the heart of its success. The company is driving circular construction as a world leader in recycling to build more with less. Holcim is the company behind some of the world's most trusted brands in the building sector including ACC, Aggregate Industries, Ambuja Cement, Disensa, Firestone Building Products, Geocycle, Holcim, Lafarge and Malarkey Roofing Products. Holcim is 70,000 people around the world who are passionate about building progress for people and the planet through four business segments: Cement, Ready-Mix Concrete, Aggregates and Solutions & Products. Learn more about Holcim on www.holcim.com, and by following us on LinkedIn and Twitter.
About Holcim MAQER
Holcim MAQER is the industry's leading Venture Client unit driving change through open innovation in the building materials sector. Holcim MAQER connects technology companies to actual use cases across the entire Holcim value chain, from quarry to the customer. Collaborating with startups, thought leaders and corporations, Holcim MAQER finds the most impactful technologies to help build a smarter, greener and more inclusive world.
Learn more about Holcim MAQER on www.holcimmaqer.com and by following us on LinkedIn.