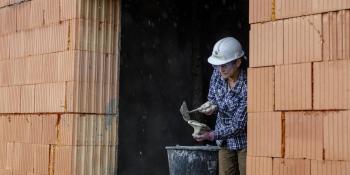 Wienerberger and Habitat for Humanity International extend partnership to build and advocate for affordable homes
ATLANTA (Feb. 28, 2022) —Wienerberger Group, a supplier of building materials and infrastructure solutions, today announced it is extending a decade-long partnership with Habitat for Humanity International for an additional three years. Wienerberger will donate bricks, roof tiles and piping materials for use in Habitat homes while also contributing its expertise and volunteers to help advance Habitat's mission.
Through the partnership, Habitat will be able to build or improve 300 housing units in Bulgaria, Great Britain, Hungary, North Macedonia, Poland, Romania, Slovakia and the United States. Wienerberger and Habitat will also team up to advocate for better affordable housing and energy efficiency policies, including through national and regional housing forums.       
Since launching their partnership in 2012, Wienerberger and Habitat have helped nearly 5,000 people access healthier, safer and more energy-efficient homes. Joint advocacy efforts have led to policy changes at the national and municipal level impacting more than 600,000 people.
"We continuously support a whole range of social projects and institutions in many countries Wienerberger operates in, by supplying not only building materials and infrastructure solutions but also our sustainable building know-how," said Heimo Scheuch, chairman of the managing board of Wienerberger Group. "Our cooperation with Habitat for Humanity also contributes substantially toward raising the public's awareness of the need for affordable housing, especially for marginalized people seeking to improve their living conditions."
Along with providing affordable housing solutions, the partnership also will also support the construction or improvement of community centers, education centers and facilities for elderly residents and those living with a physical disability. This continues previous partnership work around social projects that, for example, supported construction of a hostel allowing family members to visit autistic relatives in Hungary.
"We are incredibly thankful for the donated materials from Wienerberger that will help lower the cost of housing for hundreds of families," said Rick Hathaway, Habitat's vice president for Europe and the Middle East. "But this partnership goes far beyond that, as Wienerberger will continue to help Habitat shine a light on large gaps in affordable housing while also applying its technical expertise to help low-income families and those facing special challenges related to housing."
About Habitat for Humanity
Driven by the vision that everyone needs a decent place to live, Habitat for Humanity found its earliest inspirations as a grassroots movement on an interracial community farm in south Georgia. Since its founding in 1976, the Christian housing organization has grown to become a leading global nonprofit working in local communities across all 50 states in the U.S. and in more than 70 countries. Families and individuals in need of a hand up partner with Habitat for Humanity to build or improve a place they can call home. Habitat homeowners help build their own homes alongside volunteers and pay an affordable mortgage. Through financial support, volunteering or adding a voice to support affordable housing, everyone can help families achieve the strength, stability and self-reliance they need to build better lives for themselves. Through shelter, we empower. To learn more, visit habitat.org.
About Wienerberger
The Wienerberger Group is an international provider of smart solutions for the entire building envelope and for infrastructure. Wienerberger, the world's largest producer of bricks (Porotherm, Terca), also is a major producer of roof tiles (Koramic, Tondach), concrete pavers (Semmelrock), and pipe systems (Steinzeug-Keramo ceramic pipes and Pipelife plastic pipes). With its total of 215 production sites, the Wienerberger Group generated revenues of EUR 4.0 billion  and sales growth of EUR 671 million in 2021.