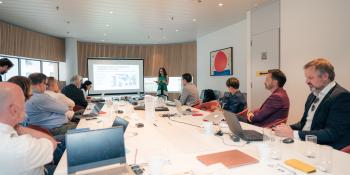 Habitat for Humanity Takes Part in EU's €100bn Green Homes Initiative
Habitat for Humanity jointly with nine other partners have commenced the implementation of the Smarter Finance for EU project (SMARTER4EU). This project is funded by the European Commission under the EU-LIFE funding scheme. SMARTER4EU aims to accelerate the roll-out of certified green homes across Europe, including the development and adoption of over €100 billion worth of green mortgages, loans, and development finance. In response to the energy crisis across Europe, caused by Russia's invasion of Ukraine, the project also focuses on hybrid green finance tools for vulnerable citizens, a segment led by Habitat for Humanity. 
SMARTER4EU builds upon the achievements of the SMARTER Finance for Families (SFFF) project, which successfully expanded Green Homes & Green Mortgage (GHGM) programs across 14 European countries and led to the planning or construction of green homes valued at over €8.5 billion with the support of the European Commission's Horizon 2020 program.  
The new Smarter Finance for EU project (SMARTER4EU) aims to build on this success by accelerating the transition to verified green homes and tailored finance. This includes both markets where programs have already been initiated and new partners in Spain and Portugal, with an additional focus on post-war rebuilding efforts in Ukraine. 
This pan-European project has partners from Ireland, Luxembourg, Portugal, Slovakia, Spain, and Ukraine. It has been established to decisively shift the market toward credible green home certifications for both new builds and retrofit projects. To ensure credible environmental performance and robust governance, the project aligns with the green finance definitions in the EU's new taxonomy for sustainable activities and utilizes the EU's Level(s) sustainable buildings framework as well as CEN standards. 
To achieve these ambitious targets, the project will establish a European Centre of Excellence. This center will facilitate the development of finance for certified green new builds and retrofit projects across Europe. Drawing from the extensive experience and expertise that have contributed to successful green home certifications and related financial products, the center will focus on capacity building within the financial services and investment industries. It will also provide support to ensure that Ukraine's rebuilding efforts are aligned with the country's urgent need to transition from fossil fuels to greener energy sources. 
Tackling greenwashing 
With recognition of the need to address a confluence of planetary emergencies, there is an all too real risk of greenwashing, or a rush towards poorly conceived solutions. That's why a key element of Smarter Finance for EU is to focus on the adoption of verified green home rating systems, underpinned by rigorous assessments, including quantification of a home's sustainability under a number of indicators.  
Drawing from the expertise the Smarter project has developed while kickstarting €8.5bn of green building projects, project coordinator Dr. Monica Ardeleanu says the process of setting up green building finance is tried, tested, and straightforward: "Our bank partners do not have to implement a new process for a green development loan. The process connecting a green certified residential project to a development loan or retail home mortgage is exactly the same. The reduction in financing risk for green homes versus standard homes also applies to both types of loans." 
Co-ordinated by the Romania Green Building Council, the partners include Portuguese energy agency Adene, Energy-Efficient Cities of Ukraine, EnerSave Capital, the European-Ukrainian Energy Agency, Green Building Council España, Habitat for Humanity International, the Irish Green Building Council, and green building publishers Temple Media Ltd.  
The Smarter Finance for EU project is supported by the LIFE Clean Energy Transition programme of the European Commission's Climate, Infrastructure, and Environment Executive Agency (CINEA). 
More information 
Energy poverty 
Led by Habitat for Humanity, the project's energy poverty element will aim to improve the health and comfort, financial stability, and energy performance of very low income, vulnerable households. It will also facilitate European and global discussions on what knowledge and lessons learned can be shared when implementing solutions that combine government incentives with private bank financing. The intent is to demonstrate that energy poverty solutions are "bankable" by private sector banks, provided they are supported with well-designed, hybrid solutions – such as a mixture of private finance and state subsidy – and that the banks are supported with an easy-to-use method of measuring energy efficiency and green performance. 
 
European Centre of Excellence 
One major undertaking included in the project is the establishment of a European centre of excellence, which is being set up to mine, expand upon and share the knowledge gained from developing successful programmes in Smarter Finance for Families, for two purposes: to ensure potential implementing partners don't have to "reinvent the wheel", and to give existing partners in the Smarter initiative the opportunity to improve the uptake of their green home programmes. 
 
Credible sustainability claims 
One issue that threatens to undermine public and investor confidence in green buildings is the lack of clarity – and in some cases credibility – to sustainability claims in the construction industry, including at building level. To this end the project will focus on ensuring programmes from new partners – and those of existing implementing partners – are aligned with a number of EU policies, including the Level(s) sustainable buildings framework, the forthcoming recast to the Energy Performance of Buildings Directive, the EU Taxonomy, Fit for 55, and other critical EU initiatives. This will also involve ensuring strong governance principles and auditing practices so stakeholders can rely upon a trusted impartial green finance program to deliver for Europe's citizens. 
 
Training and guidance 
Meanwhile, the project will focus on providing training and guidance to build the capacity of essential stakeholders, including citizens, property developers, lenders and green homes solution providers (in other words the supply chain offering the products and services needed to build green homes).  Luxembourg-based sustainable finance facilitators EnerSave Capital will lead this work, which will also include specialized training for the financial services sector. 
 
Green building solutions marketplace 
To facilitate the construction of successful buildings, the project will develop a portal of businesses who provide products and services that can be used on green buildings, led by green building publisher Temple Media Ltd. 
About Habitat for Humanity 
Driven by the vision that everyone needs a decent place to live, Habitat for Humanity began in 1976 as a grassroots effort on a community farm in southern Georgia. The Christian housing organization has since grown to become a leading global nonprofit working in local communities across all 50 states in the U.S. and in more than 70 countries. Families and individuals in need of a hand partner up with Habitat for Humanity to build or improve a place they can call home. Habitat homeowners help build their own homes alongside volunteers and pay an affordable mortgage. Through financial support, volunteering or adding a voice to support affordable housing, everyone can help families achieve the strength, stability, and self-reliance they need to build better lives for themselves. Through shelter, we empower. To learn more, visit habitat.org.