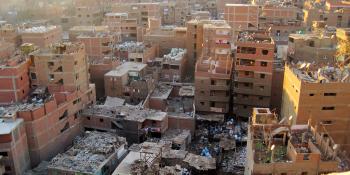 The human development impacts of upgrading informal settlements in the MENA region – virtual discussion.
Cairo (Sep 12th, 2023) — Habitat for Humanity has recently published a report titled "Improving Housing in Informal Settlements; Assessing the Impacts on Human Development." The report, conducted by the International Institute for Environment and Development (IIED), analyzes the significant role of equitable access to adequate housing in fostering human development and incorporates data from over 100 countries, including Egypt, Jordan, Morocco, Iraq, Mauritania, the Occupied Palestinian Territories, and Turkey.
This comprehensive study is part of Habitat for Humanity's Home Equals Campaign - a five-year global advocacy campaign advocating for policy changes at all levels to ensure that people living in informal settlements have access to adequate housing.
Habitat for Humanity's Urban Housing Practitioners Hub in the Middle East and North Africa (UHPH-MENA) is set to host an insightful virtual roundtable discussion on September 21st to share and discuss the findings of the report by exploring the potential socioeconomic impacts that would arise if housing improvements in informal settlements were to be undertaken on a national scale. This concept is exemplified by countries such as Jordan, with an annual Gross National Income (GNI) per capita of $9,967. The implementation of housing improvements and the upgrading of informal settlements could yield a significant 10.5% increase in the country's GNI. This economic growth could surpass the cost of securing adequate housing, thereby elevating both the economy and living standards.
Similarly, in Egypt, the country would benefit tremendously from upgrading informal settlements on a wide scale. With approximately 400,000 people living in slums and even more living in informal settlements not classified as slums, upgrades could potentially boost Egypt's GDP by an estimated $42.43 billion annually and increase the expected years of schooling by nearly four. Given the proven positive impact on multiple dimensions of human development, these figures underscore the importance of policymakers considering the adoption of policies focused on informal settlement upgrades. The study's findings highlight a potential 4% increase in life expectancy, a 28% surge in years of schooling, and a notable 10.5% rise in economic growth. These advances hold the dual potential of not only invigorating the economy but also uplifting the living standards of the nation's residents, both in the present and for generations to come.
"The findings of the Home Equals campaign launch report highlight the immense potential of securing adequate housing in informal settlements to uplift communities and drive sustainable development for all," said Camila Cociña, an IIED researcher and expert on housing, urban equality, gender, informality, and local governments.
This virtual discussion provides a platform for practitioners, researchers, and policymakers to engage in a conversation with field experts, including two representatives from the IIED – Alexandre Apsan Frediani, Co-convener Housing Justice Programme and a Principal Researcher of the Human Settlements Group, and Camila Cociña, Researcher and Co-convener of the Housing Justice Program; Hendrik Shleiben, a dedicated Programme Analyst Cities & Migration Programme /Tunisia Country; Mounia Tagma, Independent Housing Policy Expert, and Rebecca Ochong, Associate Director of Global Affairs & Advocacy at Habitat for Humanity.
The speakers will showcase how housing is the basis for well-being and sustainability, as well as an enabler of human development. The presentation of key findings and the modeling of potential improvements to yield social and economic benefits for communities in informal settlements are expected to stimulate discussions about the potential opportunities and possibilities. This is particularly crucial in the context of the Middle East, a region grappling with a range of intricate challenges, including population growth, displacement, environmental concerns, and economic issues.
The discussion will also explore the spillover effect of improving housing in informal settlements, extending positive changes beyond immediate communities. As living conditions improve, residents become more engaged in local economies, driving productivity and economic growth. The spillover effect also extends to nearby formal neighborhoods, contributing to political stability, social cohesion, and environmental protection. Embracing these insights, the study's findings align with the region's Sustainable Development Goals, fostering a stable and prosperous future.
Deena Khalil, UHPH-MENA's manager, and moderator of the discussion, said, "The discussion will delve into a central question: What are the potential socioeconomic impacts if housing improvements in informal settlements took place on a massive scale in a country, in terms of income, health, education, and other dimensions of a country's HDI?"
To register for the event please click here: Registration Link.
About Urban Housing Practitioners Hub in Middle East and North Africa (UHPH-MENA):
The Urban Housing Practitioners Hub in Middle East and North Africa (UHPH-MENA) is a dynamic initiative launched by Habitat for Humanity, dedicated to driving positive change in housing and urban development across the MENA region.
UHPH-MENA serves as a pivotal platform, connecting stakeholders from diverse backgrounds to address the pressing challenges of housing and urbanization. Through dialogue and the exchange of best practices, the hub aims to promote enabling policies, innovative solutions, and applied research to create transformative impacts in housing.
With a vision of ensuring that everyone deserves a decent place to call home, UHPH-MENA advocates for the Sustainable Development Goals (SDGs) and the New Urban Agenda. By fostering inclusive and sustainable urban environments, the hub seeks to empower communities and enhance the quality of life for all residents.
To learn more about UHPH-MENA and its initiatives, visit www.menahousingforum.org/mena-uhph
About Habitat for Humanity
Driven by the vision that everyone needs a decent place to live, Habitat for Humanity began in 1976 as a grassroots effort on a community farm in southern Georgia. The Christian housing organization has since grown to become a leading global nonprofit working in local communities across all 50 states in the U.S. and in more than 70 countries. Families and individuals in need of a hand partner up with Habitat for Humanity to build or improve a place they can call home. Habitat homeowners help build their own homes alongside volunteers and pay an affordable mortgage. Through financial support, volunteering or adding a voice to support affordable housing, everyone can help families achieve the strength, stability, and self-reliance they need to build better lives for themselves. Through shelter, we empower. To learn more, visit habitat.org.