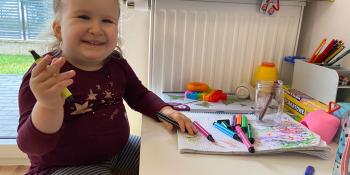 As long as life goes on – hope remains
Kateryna lived with her family in southern Ukraine near the city of Kherson. They had a very happy life: a large house, her husband owned a furniture company, and she worked in a large chain of stores as an IT manager. The family always spent their free time together. Kateryna liked to do something for her children: she kept inventing new games, different decorations. She made piñatas, paper flowers and many other things for them. She often baked for the children their favorite cake.
"For me, the most important thing is family, and to it I devote myself completely. This is my whole world," says Kateryna.
Kateryna has two wonderful children. Her son Artur, 11, is an exceptionally gifted boy. Right from birth he was curious about the world around him. He started reading at an early age and has always loved books. From early childhood he had an extraordinary imagination. As he grew older, new passions arrived. Artur loves computers and programming, sculpts from clay and draws beautifully. In Ukraine, he was involved in swimming, played chess, and attended Aikido classes. He speaks English very well and is now learning Polish. He also took a liking to robotics!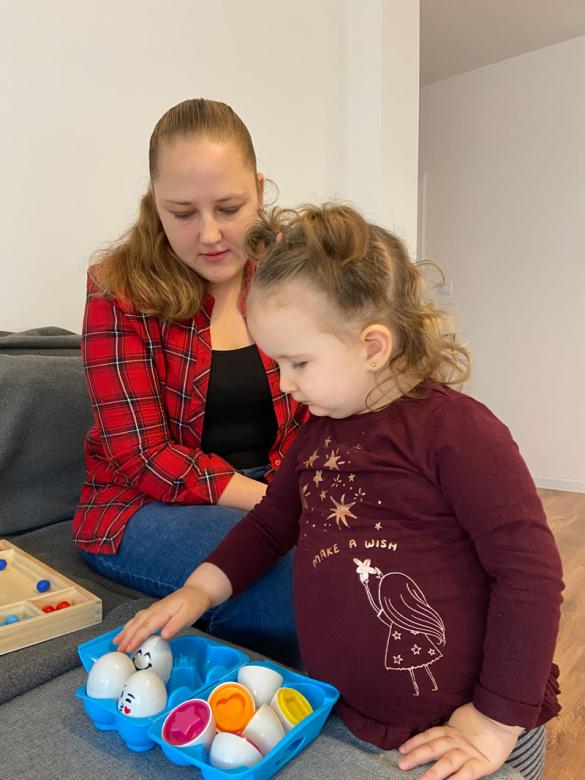 His sister Sonia, 3, was born healthy, but over time the family noticed a developmental delay. Sonia is disabled and has a condition of involuntary eye movement.
"As a mother, I felt that something was wrong with my child in the first hours of her life, but later it became obvious. Special motherhood is a very serious test for mothers," shares Kateryna.
Sonia underwent expensive tests, treatments and rehabilitation. The family spent all their savings on the child's therapy. Many of their dreams and plans had to be put on hold. But despite everything, they did not give up and the results are there: Sonia started walking at the age of 3 years and 2 months. She does not speak yet, but she is already saying simple words. She understands everything and is a very polite and calm little girl.
"Sonia, despite the pain she went through, has incredibly good energy, some kind of inner extraordinary harmony! With the arrival of my daughter in my life, I learned to find in myself extraordinary reserves of strength. Because I cannot give up if she is suffering. I want, and need, to do everything for her to have a happy life." adds Kateryna.
The family had to evacuate and leave everything they had behind. Their village has been destroyed and right now there is nothing to return to. The last three days before leaving were extremely difficult. The family spent two days in the basement. There was constant shelling.
"More than the shelling I was afraid for my sister. Sonia was very scared and cried all the time," says Artur.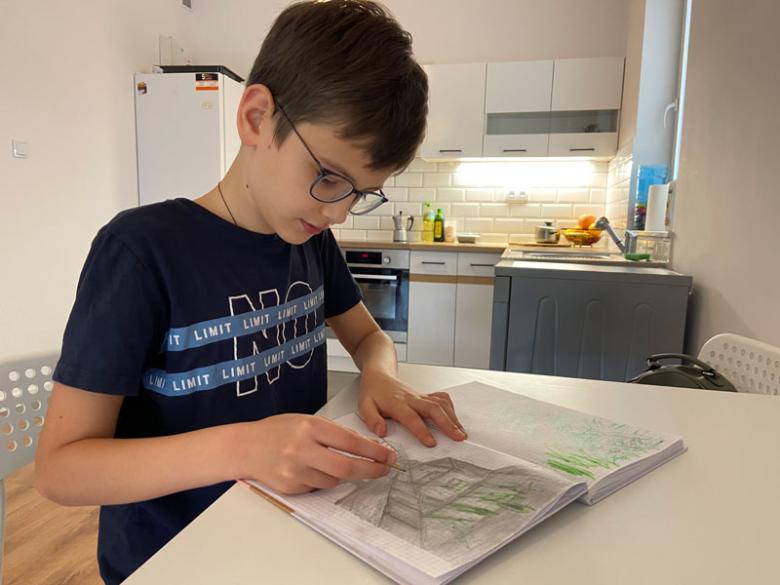 The family arrived in Poland on March 18 and reunited with friends who have been living in the country for over seven years now.
"As long as life goes on – hope remains! I believe that someday I will return to my hometown, see my family and friends again," says Kateryna, full of emotion.
The family learned about Habitat for Humanity from a Polish woman who hosted Kateryna's friend at her home. Habitat provided them with a cozy apartment with a small garden, where the children play in the summer. There is a school, stores and, most importantly, a clinic nearby.
"I am very grateful for this help! I don't know what we would have done without it. I accepted the help with the thought that once we overcome our difficulties, I will do everything to help more people," notes Kateryna.
This year's Christmas will be very difficult for the family, without relatives and friends with whom they have always celebrated this special time.
"For me, Christmas is a family holiday. We've always spent Christmas with our dear ones. But I am very happy that everyone is alive and well. I dream that we will get together soon," concludes Kateryna.