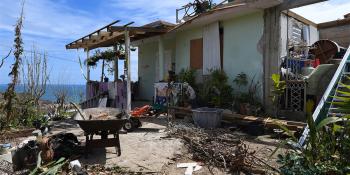 Help us help those affected by 2017 hurricanes Harvey, Irma and Maria
Donate now
In 2017, Hurricanes Harvey, Irma and Maria caused unprecedented and widespread devastation, forcing thousands of people out of damaged homes and communities in Texas, Florida, Puerto Rico and the Caribbean.
Habitat for Humanity has local organizations throughout the regions affected by the storms. With their help, we are committed to continuing our work in addressing long-term shelter and housing needs in these areas. The extent of our ability to help rebuild will depend on generous support from donors, volunteers, corporate partners and other community organizations.
Our hearts and prayers remain with everyone in the affected areas.
Hurricane news and stories
Make a donation
Please give generously so we can serve families impacted by Hurricanes Harvey, Irma and Maria.