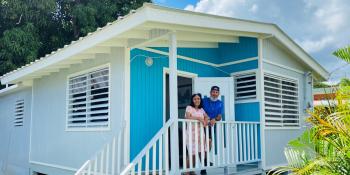 Recovery and rebuilding after devastating hurricanes in Puerto Rico
When hurricanes Irma and Maria barreled across Puerto Rico during the 2017 hurricane season, the storms left homes damaged in their wake and exacerbated longstanding and persistent housing issues and challenges on the island. Habitat for Humanity responded in the immediate aftermath by assessing the damage and providing shelter kits and solar kits to affected families.
With the generous financial support of AbbVie, a research-based pharmaceutical company and one of Puerto Rico's largest employers, Habitat has implemented a holistic program focused on home repairs, helping homeowners secure land tenure, advocacy work and workforce development.
Our work has had an important impact for housing on the island. This snapshot of completed home repairs, published in July 2021, illustrates how we are helping families regain a sense of stability and security.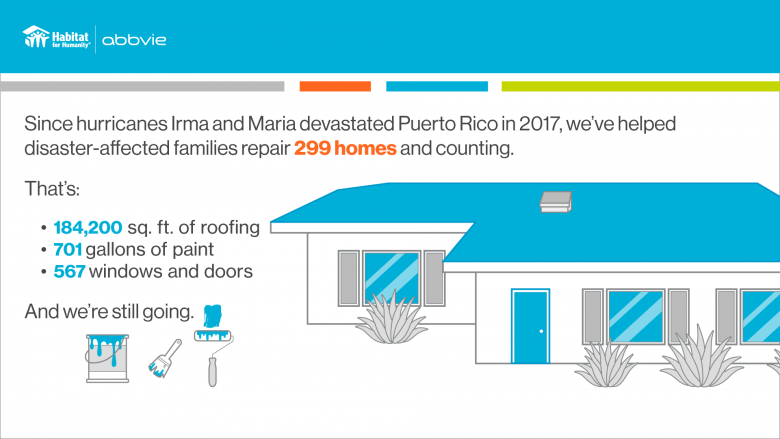 Our work
Repairs and new construction
We partner with homeowners to repair or rebuild their homes and also offer trainings on safe repair and building practices that will help homes be more resilient to future storms. In addition, we're working to connect families with new construction properties in neighborhoods in need of revitalization, like the 12-unit condominium completed in 2021 on Avendia Juan Ponce de Leon in the heart of Santurce barrio. The building will be entirely filled by Habitat homeowners.  
Land tenure
The Puerto Rico Planning Society estimates that 260,000 homes, representing 1.3 million people, on the island were built without proper permits or clear title. This impacts a homeowner's ability to rebuild, to receive post-disaster assistance and federal aid, and to establish legal access to basic services and utilities. Working in partnership with Puerto Rico's Foundation Fund for Access to Justice, Habitat helps homeowners secure official title clearances and continues to support policies that will further improve the security of tenure, title clearing and granting.
Advocacy
Policies have the power to dramatically advance housing recovery and help establish long-term resiliency. By sharing knowledge and best practices from our ongoing work, we're helping communities, businesses, policy officials and leaders consider how to increase scale and solidify housing recovery.
We're working to implement an advocacy agenda that supports scaling up and replicating housing-recovery programming on the island. Habitat will monitor and evaluate the program to continually improve and measure impact. In addition, Habitat is working with the University of Puerto Rico School of Law Master Trust to conduct in-depth evaluation of the existing land trust in Puerto Rico, with the hope this research leads to new legislation.
Construction training
We're creating and hosting training programs for local workers to help them learn the construction methodologies, skills and techniques to build back safer, more resilient homes. One example is the Construction Laboratory we established at Universidad del Sagrado Corazón in Santurce. The rehabbed building hosts construction bootcamps designed to prepare participants to work in the country's growing construction industry.
A bright future
Together, in partnership with families in Puerto Rico and AbbVie, Habitat is helping families affected by hurricanes Irma and Maria to create a brighter future. Having more resilient homes on the island, secure land tenure that offers homeowners peace of mind, scalable advocacy support and training programs and investments that support workforce development are all critical components to ensuring families have the tools they need to recover, rebuild and thrive.