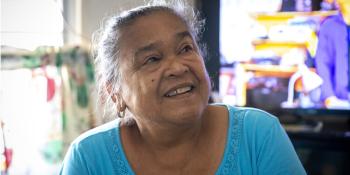 Habitat continues long-term disaster recovery work in Puerto Rico
Antonio and Rosa live at the top of a steep, winding road in La Morenita, a remote section of the Bayamόn district, south of San Juan, Puerto Rico. When back-to-back hurricanes — Irma and Maria — hit in September 2017, water collected on the flat roof of their house and streamed down the interior walls, soaking their furniture, clothes, kitchen cabinets and everything else.
"Water just kept pouring in the ceiling," Rosa says of the night Hurricane Maria hit.
Antonio, retired from working in construction, used plywood sheets and scraps of material to close in the carport, which had a slanted roof that kept out the continuing wind and rain. They coped by moving their bed into the back part of the carport, and Antonio put together a rudimentary kitchen with a gas stove for cooking.
The couple was living in their makeshift shelter when Rosa's niece told her Habitat for Humanity was coming to their locally run community center, Semillitas de Amor, to do a survey and offer help. Habitat partnered with the community center as well as the city of Bayamόn to identify residents in need of housing repairs and help them apply for the first phase of Habitat's repair program. Habitat hired local contractors to fix Antonio and Rosa's roof, patch ceilings, paint the house and fix electrical problems.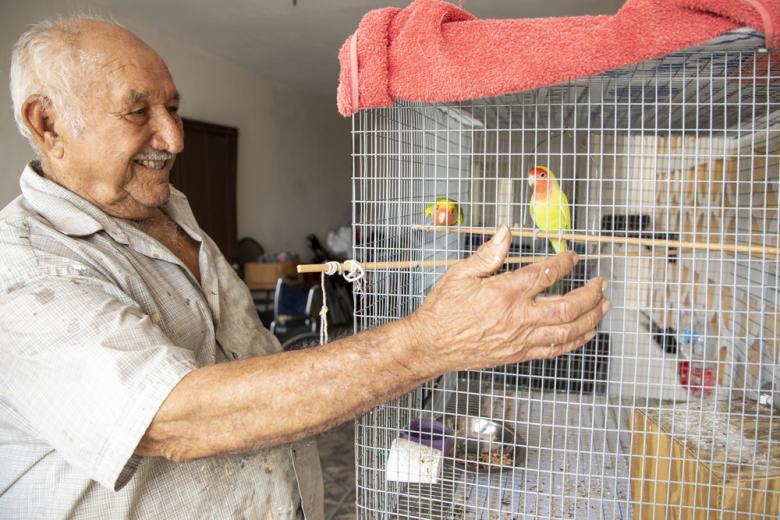 Habitat's work in Puerto Rico
Antonio and Rosa's house was the first to be repaired through the first phase of Habitat's work in Puerto Rico, made possible by a $50 million grant from AbbVie, a research-based global biopharmaceutical company that's been operating in Puerto Rico for nearly 50 years.
"AbbVie is helping to create a sustainable impact on Puerto Rico by supporting Habitat for Humanity's mission to repair and rebuild homes, train the workforce and resolve title challenges for people on the island," says Melissa Walsh, AbbVie's vice president of corporate responsibility and global philanthropy. "AbbVie is proud to partner with Habitat as it continues this important work to support Puerto Rico's recovery and resilience."
Supported by AbbVie, Habitat's work will focus on the following areas:
Repairs and new construction.

Habitat is working with storm-affected homeowners to conduct repairs to their properties, as well as partnering with families to rehab or build new homes. We are using design and construction techniques that help make homes more resilient to future disasters, including tropical storms, hurricanes and earthquakes.





At least 90 repair projects like Antonio and Rosa's are scheduled by the end of June 2019. As work in Bayamόn and the neighboring municipality of Caguas continues, Habitat is expanding the repair program to the island's south-central coast, including the municipality of Guayama. In addition to repairs, Habitat will also engage in major rehabs and new construction there, scheduled to begin summer 2019. Work will then move on to the eastern part of the island in 2020.

Capacity building. The construction sector in Puerto Rico had already been heavily impacted before the storm by difficulties in the local economy, difficulties that than deepened with the global economic crisis. Once the U.S. sector rebounded during the recovery — a recovery yet to reach Puerto Rico — many construction workers left the island to find work on the U.S. mainland. To date, Habitat has focused on increasing the capacity of the construction workforce by conducting OSHA-certified training sessions across seven hard-hit municipalities. So far, 185 people have completed training in Jayuya, Caguas, Carolina, Humacao, Barceloneta, San Juan and Loiza. Future work in this area will go beyond OSHA certification and move into construction skills training.
Land tenure advocacy. Lack of documentation of property ownership continues to be a barrier to people securing assistance. Like the 75 percent of people around the world who live without legal rights to the land under their homes, an estimated 1.3 million Puerto Ricans did not have titles to their land before the storm, even if their family had lived on the land for generations.



Because of missing or nontraditional documentation, thousands of families were initially denied FEMA assistance. To help some of these families access federal funds, Habitat launched a legal aid program focused on homeownership documentation for those seeking to appeal their eligibility. More than 50 lawyers deployed to FEMA centers by Habitat worked through paperwork with families and helped them file appeals for assistance.





In addition, long-range efforts to address land tenure in Puerto Rico are also being explored. They include pilot projects to help hard-hit municipalities use available mechanisms to assist residents with property title issues. To establish evidence-based information to support this work, the University of Puerto Rico, Habitat and other organizations are now conducting detailed studies, which will guide and shape efforts to change policies and offer local communities innovative tactics for establishing property ownership for their residents.

Knowledge sharing. Because policies have the power to dramatically advance housing recovery and long-term resiliency, Habitat also is collaborating with community leaders, businesses, policy officials and government leaders to share best practices and knowledge to increase opportunities for people to live securely in their homes. For example, Habitat is an active part of a working group focused on tenure that also includes fellow nonprofits Center for a New Economy and ReImagina Puerto Rico.
Looking ahead
After 10 months of living in their garage, Antonio and Rosa were finally able to move back into their home. Their children, grandchildren and great grandchildren check on them every day. Now that the house has been repaired, they feel safer from the next hurricane that might come along.
They're happy to be able to talk to their two parakeets and work in their garden. Their papaya tree is bearing fruit again, and they're growing peppers and herbs.
Rosa says she feels at peace living in her house again. "God helped us through Habitat," she says.