After Hurricane Harvey left a wake of destruction in Texas, families across the state partnered with Habitat's hurricane recovery program Habitat Hammers Back to rebuild their homes and their lives.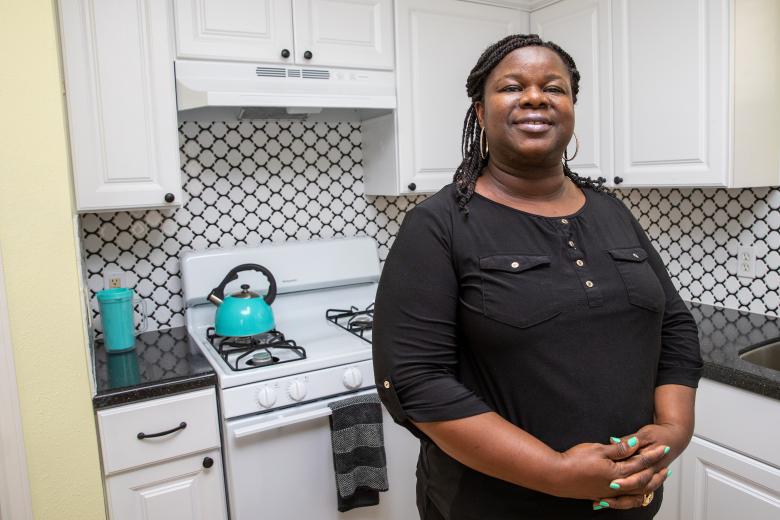 Rebuilding in Richmond
After being confined to her home for several days during Hurricane Harvey, Edna's first view of the outside world came as a shock. "It looked like an ocean," she recalls. "You couldn't see grass, trees, signs, houses. Nothing."
In this desolate and unrecognizable landscape, she and her family escaped the only feasible way — using an air mattress as a makeshift boat to float to safety. Living out of a hotel with her entire home and a lifetime's worth of belongings destroyed, Edna turned to Habitat for Humanity.
"It was a godsend," she says. "I was at my lowest point. I didn't know what to do, I didn't know how to build a house."
In a massive community effort, Habitat volunteers and donors provided her family with the manpower, the machinery and the know-how to help them rebuild from the foundation up. Together, they completely gutted, drywalled and painted the home.
"I thank God for Habitat," she states. "Because without them, I wouldn't be standing here today."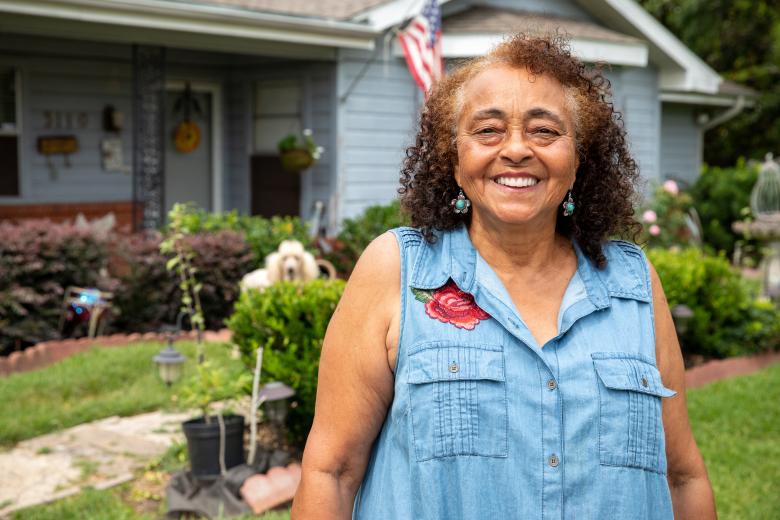 Helping a faithful volunteer in Beaumont
When Helena ventured out to her local Habitat ReStore to browse their furniture, she had no idea she would be finding a calling.
Noticing several customers in need of help while staff were inundated with other requests, she immediately jumped behind the counter and went to work. That was a decade ago, and most days you can still find her there helping people in the store and the office, only ever increasing her hours and her commitment to Habitat's mission. The retiree calls it her "divine appointment."
When the catastrophic wind and rain of Hurricane Harvey severely damaged the roof to her home, Helena was brought to tears when Habitat stepped in to return the favor. Through Habitat's assistance, she was able to replace the water-damaged sheetrock and flooring in her bedroom caused by the leaks, remediate the mold and mildew in the walls and trusses, and seal and reshingle the roof to protect her home, her garage and herself from the elements.
The repairs allowed her to get back to her work of ensuring everyone has a strong roof like hers over their heads. "The community needs Habitat, and Habitat is there for them," she says. "And I'm going to be there for Habitat as long as I can."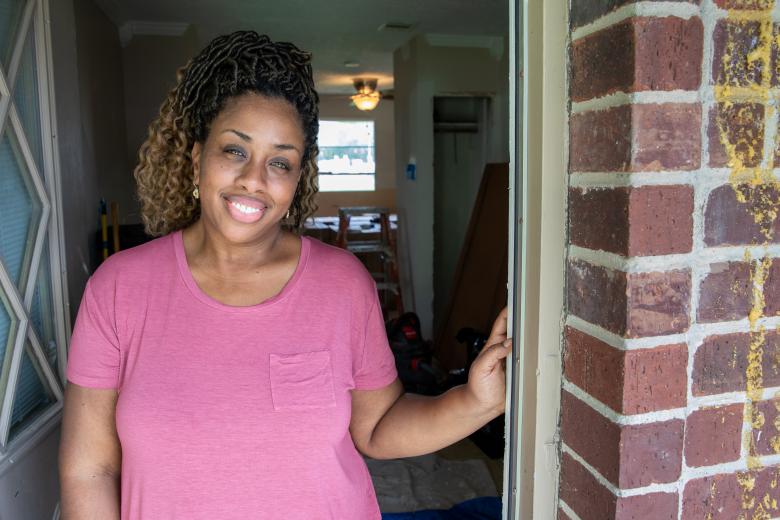 A fresh start in

Arcola
Tieasha and her family returned from Dallas after Hurricane Harvey last September to find their home decaying in 6 feet of water and their work cut out for them.
After subsequent months of gutting, spraying for mold twice and reconstructing, she thought the worst was behind them. However, after teaming up with Habitat, Tieasha ran tests and discovered that the mold was still present, continually growing beneath their new drywall and seriously impacting her family's air quality and health.
Determined to make the home safe again, Habitat volunteers have helped her restart — demolishing the existing work, effectively treating the mold and finally rebuilding on a safe and strong foundation.
"The saying that it takes a village to make the world work?" she says. "I've seen that come to life here. This would not be possible without Habitat and all of the volunteers who are here to help."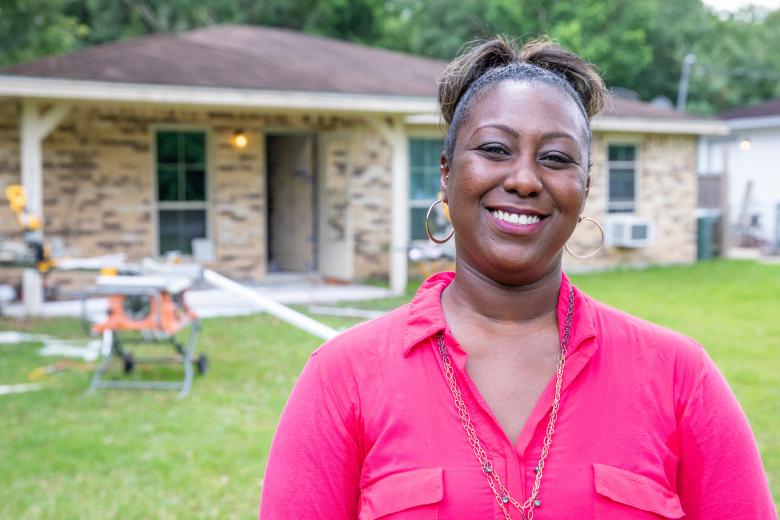 Moving forward in Beaumont
By the time the rain stopped 117 hours later, Latoya's life had been turned upside down.
"Hurricane Harvey came," she recounts. "And then Hurricane Harvey left — with my security, with my joy, with my stability."
Both her house and her workplace were underwater, leaving her without a job and a home. She dipped into her savings to make the necessary repairs and return a sense of normalcy to her daughters' lives, but a false start with a contractor left her with depleted savings and a still-unlivable home.
"I felt stuck. I didn't know where to turn," she says. "But that's when I found Habitat." It's a discovery that she credits with giving her the strength to carry on.
With only the frame of the house remaining after the storm, Habitat is helping her put up drywall, replace appliances, hang doors and install flooring to help her family finally go home. Latoya couldn't be more grateful.
"Habitat took a huge weight off of my shoulders. I could keep moving forward. They made a way out of what was no way. They saved my life."