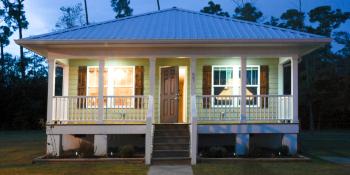 Habitat Strong
Disaster resilient building program
The Habitat Strong program is designed to promote the building of homes that are more durable, resilient and physically strong.
The need for stronger homes has become increasingly apparent, and through Habitat Strong's fortified codes-plus building practices, we are able to strengthen homes' building envelopes which enable them to better withstand natural disasters in every region of the country.
This program was developed specifically for the Habitat model to be affordable and volunteer-friendly, while offering benefits to partner families that will last for years to come.
Our response to disasters and mitigation
Focus on housing needs resulting from natural disasters and rebuilding techniques.
Use a systematic approach to help mitigate against future natural disasters and build back stronger, using proven methods that are volunteer-friendly and affordable.
Offer resources, technical assistance and training in ways to improve the resilience of homes and improve durability.
Provide support and information to communities prone to natural disasters to help protect them against future events.
Our approach: Mitigation techniques
Habitat for Humanity has developed a method for improving resiliency while maintaining affordability for our homeowners.
For families in areas prone to natural disasters such as hurricanes, high winds, tornadoes, earthquakes, floods, winter storms and wildfires, our standard moving forward is to build fortified homes through the Habitat Strong program, and the Insurance Institute for Business & Home Safety FORTIFIED program.
Contact us
For more information about our disaster resilient building methods and resources, contact us at [email protected]