Raising our voices: Habitat for Humanity launches Cost of Home campaign to improve home affordability for 10 million people in the United States
ATLANTA (June 12, 2019) — Nearly 19 million households across the United States are spending at least half of their income on a place to live, often foregoing basic necessities like adequate food and health care to make ends meet. The stability that housing should bring continues to remain out of reach for many people.
In response to that challenge, the global nonprofit housing leader Habitat for Humanity is launching its first-ever nationwide advocacy campaign in the United States. Through the Cost of Home campaign, Habitat will mobilize volunteers, community members and partners throughout the country to find the solutions and help create the policies that will allow 10 million individuals to meet their most basic needs.
"For more than 40 years, Habitat has been making safe, decent and affordable housing a reality, one family at a time," said Jonathan Reckford, CEO of Habitat for Humanity International. "The challenge in front of us obliges us to do even more. Not only will Habitat lift our hammers to build affordable homes, we will lift our voices as one to declare that every family should be able to afford the cost of home."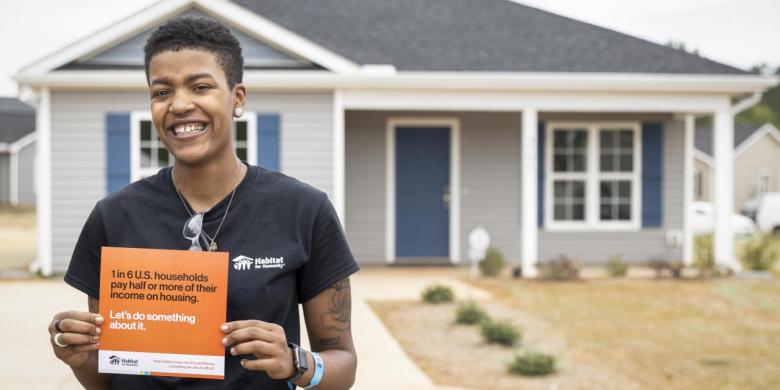 Marking significant growth in Habitat's commitment to ensuring that everyone has a safe and decent place to call home, the Cost of Home campaign seeks to identify and improve policy, systems and legislation through coordinated advocacy efforts at the local, state and federal levels. The Cost of Home policy platform focuses attention on four core policy focus areas that are critical to solving the nation's home affordability challenge: increasing the supply and preservation of affordable homes, equitably increasing access to credit, optimizing land use for affordable homes and ensuring access to and development of communities of opportunity.
More than 200 local and statewide Habitat organizations across the country have already signed on to implement the campaign in their communities. Just as Habitat builds homes to meet the needs of the individual communities it serves, the Cost of Home campaign will advocate for policy solutions that match the unique challenges facing towns, cities and states across the nation.
For example, in Oregon, Habitat supporters are rallying today with state legislators to celebrate a recent win to provide long-term price stability for renters through a first-of-its-kind statewide measure. Earlier this week in Kentucky, Habitat declared a bold new strategy to ensure housing affordability is addressed by candidates in upcoming elections this year. Today in Paterson, New Jersey, Habitat is joining with New Jersey First Lady Tammy Murphy to call on the state legislature to fully fund that state's Affordable Housing Trust Fund.
At the national level, Habitat for Humanity International will lead efforts within Congress and the administration to prioritize housing affordability solutions. To build on its track record of success protecting federal funding critical to home affordability, Habitat will support bold and innovative action to drive policy change that addresses the increasing cost of housing across the rental and homeownership spectrum. Habitat will seek increased opportunities to partner with key stakeholders and work in coalition to create a healthy housing market and affordable opportunities in every community in the United States.
"When the cost of home is your family's future, the cost is too high. When the cost of home is any family's future, that's something none of us can afford," Reckford said. "Everyone deserves to build the foundation for a strong, healthy future for themselves and their families — no matter where they live or how much money they earn. Every family deserves the chance to thrive. Help us make that possible. Help us make the #CostOfHome something we all can afford."
The Cost of Home campaign is advised, endorsed and supported by several high-profile individuals and organizations, including a campaign cabinet co-chaired by Reckford and housing affordability champion J. Ronald Terwilliger. More details about the campaign can be found at habitat.org/costofhome.
About Habitat for Humanity
Driven by the vision that everyone needs a decent place to live, Habitat for Humanity began in 1976 as a grassroots effort on a community farm in southern Georgia. The Christian housing organization has since grown to become a leading global nonprofit working in local communities across all 50 states in the U.S., and in more than 70 countries. Families and individuals in need of a hand up partner with Habitat for Humanity to build or improve a place they can call home. Habitat homeowners help build their own homes alongside volunteers and pay an affordable mortgage. Through financial support, volunteering or adding a voice to support affordable housing, everyone can help families achieve the strength, stability and self-reliance they need to build better lives for themselves. Through shelter, we empower. To learn more, visit habitat.org.