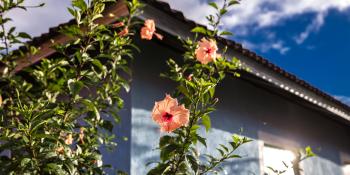 As leaders in the housing sector, Habitat has paved a path for housing organizations to connect their older adult repair work to health care through programs like CAPABLE, developed by researchers from Johns Hopkins University, and Habitat's Housing Plus model. 
Experts in the housing sector developed these evidence-based strategies to help housing organizations pair their home repair work with the expertise and assistance of healthcare professionals, providing older adults with holistic, integrated health and housing support. 
The Habitat network has seen evident results – older adults that partner with us show improved quality of life and increased capacity to safely and securely remain in their homes as they age.
Our resources hub is a launching point for the other housing organizations to learn about and implement Habitat's innovative aging in place solutions, resources and data with the goal of helping even more older adults age in the homes and communities they love.
Find your local Habitat to learn about Aging in Place work in your area
Our experts created Bridging the Gap, a guide that opens the door for housing organizations to use our evidence-based and multi-sector strategies to help older adults age in place. Through this guide, housing organizations can partner with those in the health care sector for a person-centered, holistic approach to aging in place, one in which centers the individual as the primary voice in their health and well-being.
CAPABLE is a theory-driven, evidence-based, client-directed and home-based intervention developed by researchers from Johns Hopkins University. In this model, the expertise of a construction specialist is combined with a nurse and occupational therapist to improve independence and mobility; manage chronic symptoms; and decrease health care costs for older adults struggling with activities of daily living. This model has been proven to increase older adults' mobility, functionality and capacity to age in place.