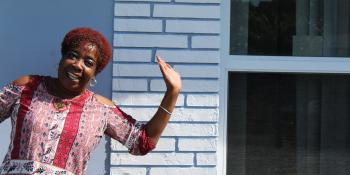 Aging in Place impact
Older adults share stories of Habitat's impact on their lives
By partnering with Habitat's Aging in Place program, older adults across the U.S. are able to access the resources they need to age in their homes, while maintaining both their independence and quality of life.
Habitat helps older adults with home repairs and modifications specific to each homeowner's lifestyle, ensuring their home is safe, secure and accessible. In addition to this work, we partner with local health care professionals and community services so older adults can get the holistic care they need to stay in the homes and communities they care about.
The results are happier, healthier older adults. Take a look at data in our CAPABLE report and read some of the stories on how we have transformed aging for many older adults.
You can help more older adults age in place
By supporting Habitat, you can help more older adults age in place.