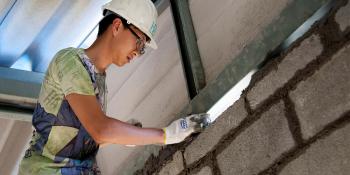 2001–2005
Disaster Response programs
Learn about Habitat for Humanity's Disaster Response efforts from 2011 to the present.
2005
Hurricanes Katrina and Rita, Gulf Coast, USA
Hurricanes Katrina and Rita made landfall in late 2005 and became one of the most destructive disasters in United States' history. The two hurricanes displaced more than a million residents, inflicted major damage to nearly 550,000 homes, and demolished hundreds of square miles of coastal land.
Habitat for Humanity responded to the devastation by implementing Operation Home Delivery, which helped low-income, hurricane-affected families in Louisiana, Mississippi, Texas and Alabama achieve simple, decent, and affordable housing.
Today the Gulf Coast region is still recovering from these storms that exacerbated previous housing and economic challenges. Habitat's Gulf Coast affiliates continue to build houses in the affected area as part of the ongoing Hurricanes Katrina and Rita Recovery Effort.
Earthquake in Pakistan
A massive earthquake struck Pakistan and neighboring India and Afghanistan on Oct. 8, 2005. An estimated 3 million people became homeless as a result of the earthquake. Habitat distributed 800 winter survival kits, 599 blankets and 150 tents; constructed more than 400 dome-shaped transitional shelters and 346 permanent houses; and provided sawmill services for more than 5,500 families. Working with partners and the government of Pakistan's Earthquake Reconstruction and Rehabilitation Authority, the project assisted more than 10,000 families.
Hurricane Stan and flooding in Mexico and Central America
Hurricane Stan hit Veracruz, Mexico, on October 4, 2005, and began generating separate storms that wreaked havoc throughout southern Mexico and parts of Central America. The heavy rainfall from the storms caused severe flooding and mudslides, affecting millions of people in Mexico, Guatemala and El Salvador. More than 500,000 people lost their homes.
Nearly 200 families were assisted with new housing, repairs and rehabilitation in Quetzaltenango, Solosa, San Marcos and Jutiapa in Guatemala and Veracruz and Chiapas in Mexico. Response activities also included securing land to build new communities for villages that were completely destroyed by mudslides. 
Complex humanitarian emergency in Sierra Leone
The Republic of Sierra Leone experienced a traumatic armed civil conflict for more than a decade, from 1991 to 2002. Habitat for Humanity International partnered with World Relief to provide public and private infrastructure in the form of technical assistance and building materials to 600 families, as well as build five community structures for meetings and other functions, build one central market structure and provide preventative health and HIV/AIDS education to 600 households including 3,000 people.
Disaster Response volunteers newsletter
You can receive updates on U.S. disaster response and recovery volunteer opportunities.
2004
Tsunami in the Indian Ocean
On December 26, 2004, a 9.0-magnitude undersea earthquake struck the western coast of Sumatra, Indonesia. The earthquake was the fourth largest since 1900. More than 225,000 deaths and disappearances were caused by the resulting tsunamis which struck and ravaged coastal regions all over the Indian Ocean. The scale and extent of the destruction of housing was unprecedented.
Habitat has built, repaired and rehabilitated houses with families affected by the 2004 India Ocean tsunami in India, Indonesia, Sri Lanka and Thailand. To date, Habitat for Humanity has assisted more than 20,000 families with permanent housing and provided disaster mitigation training for almost 5,000 more.
Multiple hurricanes in the Caribbean
During 2004, the island countries of Haiti, the Dominican Republic, Jamaica and Grenada were devastated by hurricanes, incredibly heavy rains and strong winds. Habitat for Humanity worked with communities in some of the most severely affected areas of these Caribbean nations to help them rebuild their homes and their lives.
In the Haitian communities of Fond Vertees, Les Cayes and Jacmel, Habitat worked with 130 local families to provide permanent housing solutions. In the Dominican Republic, nearly 100 families were assisted in the communities of Rio Mar, El Factor and Matancita. Throughout Jamaica, 210 families affected by Hurricane Ivan received assistance. A total of 225 low-income Grenadian families were also assisted with house repairs and construction skills training. 
Storms in Florida, USA
During hurricane season in 2004, thousands of families in many parts of Florida endured some of the most devastating hurricanes in recent history. In just six weeks, four massive storms pounded the state, tearing off roofs, knocking down walls and power lines, and leaving thousands homeless. Habitat for Humanity worked with communities throughout the state to build more than 60 new homes with affected families. 
Complex humanitarian emergency in Angola
Over the course of nearly three decades, Angola struggled to survive one of the most protracted conflicts in recent history. During this period, more than 4 million people were displaced and 400,000 fled as refugees to neighboring countries.
Subsequent peace accords opened the door for families to return to their communities, only to find widespread destruction and ruin. Many lived in cramped refugee camps and temporary shelters. There was an overwhelming need for decent, safe and affordable shelter for families looking to rebuild their lives and provide a future for their children.
Habitat for Humanity International implemented a shelter resettlement program for returning refugees in the central province of Bié. Partnering with CARE Angola and other agencies, the resettlement program served 400 families including 2000 people with technical assistance for the production of mud bricks and transfer of construction skills. The shelter program was supported with a food security component to allow the resettlement and rebuilding process. 
Complex humanitarian emergency in Burundi
After a decade-long civil war that displaced thousands of people and destroyed a quarter of a million homes, refugees began returning home to Muyinga, Burundi. To meet the need for housing for these refugees, World Vision International/Burundi, in partnership with Habitat for Humanity International, launched the Habitat for Humanity Housing Project in Muyinga Province to build 400 households in the Giteranyi and Muyinga communes with decent, watertight and secure housing. 
2003
Tornadoes in Tennessee, USA
A tornado recovery program built homes for families affected by tornadoes that hit Jackson, Tennessee in May 2003. Through a series of partnerships, recovery homes were built as part of a broader alliance that supported up to 26 disaster-affected families in the area.
2002
Complex humanitarian emergency and earthquake in Afghanistan 
In northern Afghanistan, Habitat for Humanity provided materials, tools and technical expertise to Afghan families needing to rebuild or repair their houses. Their homes were damaged by one of the worst complex disaster situations in the world that included armed conflict, civil unrest and a four-year drought.
On March 25, 2002, a powerful earthquake exacerbated the situation, killing as many as 1,000 people and damaging thousands of homes in northern Afghanistan.
After 18 months of hard work in Afghanistan, nearly 335 families in the villages of Salbarun and Temorak in Balkh province received Afghan dome houses. In a partnership with Shelter for Life, Habitat also supported efforts to provide shelter assistance for up to 5,000 earthquake-affected families in Nahrin, Baghlan province.
2001
Gujarat earthquake in India
In partnership with other organizations, Habitat built homes for families left homeless when an earthquake shook the region in January 2001. The Habitat for Humanity project was completed in 2003 with the reconstruction of 541 houses in the villages of Sikhra and Khumbariya, along with programs to support economic activity and the restoration of livelihoods.