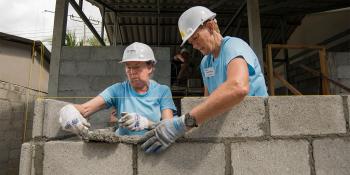 2011–present
Disaster Response programs
Learn about our Disaster Response efforts from 2011 to the present, including the Haiti earthquake, Hurricanes Harvey, Irma and Maria, the Nepal earthquake, Bohol earthquake, Typhoon Haiyan, Superstorm Sandy and more.
2021
On the morning of Aug. 14, 2021, a magnitude 7.2 earthquake hit Haiti's southwestern peninsula, leveling homes, churches and schools. Within the first three days, officials confirmed that 1,300 people had died, with thousands more injured, and more than 12,000 homes were destroyed or damaged. Those figures are expected to rise as rescue crews work through the rubble and surveys are completed. 
Habitat is coordinating with the Haitian government and other humanitarian agencies to survey affected neighborhoods. Based on assessments, Habitat will develop response options for the early recovery and reconstruction phases. Learn more about Habitat's efforts in Haiti.
2017
U.S. hurricanes
In late summer 2017, Hurricanes Harvey, Irma and Maria caused unprecedented and widespread devastation, forcing thousands of people out of damaged homes and communities in Texas, Florida, Puerto Rico and the Caribbean. Habitat for Humanity is planning for long-term recovery in these affected areas.
Learn how Habitat for Humanity is helping victims of these hurricanes and how you can get involved.
2015
Nepal earthquake
On April 25, 2015, a 7.8-magnitude earthquake struck Nepal with the epicenter in Lamjung district, followed by another 7.4-magnitude earthquake near Mount Everest. According to the government of Nepal, more than 8,800 people were killed, over 604,900 homes were destroyed and around 290,000 were damaged. The Nepal government declared a state of emergency and requested international aid.
Habitat for Humanity is responding to the earthquakes in cooperation with the Nepal government and coordinated through the Shelter Cluster's network of relevant humanitarian agency partners. Habitat for Humanity aims to support disaster-affected families through rubble removal, temporary shelter kit distribution, detailed safety assessments of houses and permanent home construction.
Support our ongoing disaster response efforts in Nepal; visit habitat.org/donate and designate your gift to Habitat Nepal.  
2013
Bohol earthquake
On October 15, 2013, The Central Visayas region of the Philippines witnessed a 7.2-magnitude earthquake known as the Bohol earthquake. More than 3 million lives were affected and more than 54,000 houses damaged. Habitat for Humanity Philippines was able to work with public and private sectors to conduct a rapid assessment and use the mobilized Habitat Emergency Response to transport materials that would help in repairing damages to community centers, health centers and municipal halls.
Habitat Philippines launched Rebuild Bohol to build more than 8,000 housing units for families affected by the earthquake. These core shelters are built to withstand 220 kph wind velocity and 6-magnitude earthquakes and use local materials such as bamboo which help the local economy and are environmentally friendly. Some aspects of the Habitat Core Shelter design include steel light frame materials for columns and beams for the structure, corrugated galvanized iron sheets for the roof and bamboo slots used for reinforcement and flexibility of becoming earthquake resilient. Plastering of cement will allow the Habitat core shelter to become more typhoon and flood resilient.
Typhoon Haiyan hits the Philippines
On Nov 8, 2013, Typhoon Haiyan struck the Philippines, leaving behind widespread devastation. The Philippine government has reported that more than 9.6 million Filipinos have been affected in 41 provinces.
Flooding in Colorado/Western U.S.
Colorado and other western states are dealing with historic flooding that has led to significant damage, ongoing evacuation orders, and continued search and rescue efforts to look for survivors. FEMA is reporting 1,882 homes destroyed and 17,494 homes damaged.
Disaster Response volunteers newsletter
You can receive updates on U.S. disaster response and recovery volunteer opportunities.
2012
Superstorm Sandy hits the U.S. East Coast
On Oct. 29, 2012, heavy rains and winds caused massive flooding and damage along the U.S. East Coast. 
Hurricane Isaac impacts the U.S. Gulf Coast
Heavy rains and high winds from Hurricane Isaac caused severe flooding along the U.S. Gulf Coast region, the Dominican Republic and affected families still recovering from the 2010 earthquake in Haiti. 
Wildfires in the Western U.S.
Wildfires devastated nearly 7 million acres across the United States in 2012 alone. Local Habitat for Humanity affiliates are working with their communities to help.
Tornadoes in the Midwest and Southeastern U.S.
More than 77 tornadoes hit 14 Midwestern and Southeastern states and damaged more than 2,000 homes. Local Habitat affiliates in southern Indiana, Kentucky and Ohio are assisting with long-term recovery efforts. 
2011
Monsoons, tropical storms, flooding and mudslides
Typhoons and monsoon rains in the Pacific region and tropical storms in Central America have caused widespread flooding and mudslides in El Salvador, Guatemala, Cambodia, India, Thailand and the Philippines. Tens of thousands of families have been forced from their homes and are in desperate need of shelter. Habitat is responding in many affected areas through emergency shelters, shelter repair kits, hygiene kits, WASH education and the repair, rehabilitation and reconstruction of homes. 
Tornadoes and flooding in the central U.S.
In April and May 2011, the central United States was hit by tornadoes across the south and Midwest, a tornado in Joplin, Mo., and heavy rains and flooding along the Mississippi River. Hundreds of people were killed, neighborhoods were flooded and entire communities were destroyed.