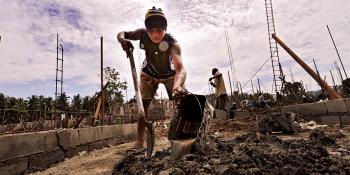 2006–2010
Disaster Response programs
Learn about Habitat for Humanity's Disaster Response efforts from 2006 to 2010.
2010
Chile earthquake
In the early morning hours of Feb. 27, 2010, a devastating 8.8-magnitude earthquake struck the coast of Chile, 200 miles southwest of Santiago. Approximately 500,000 homes sustained considerable damage, and 2 million people were affected. Habitat for Humanity Chile launched the Newen Ñeque for Chile project which served 2,082 families with shelter in more than 20 vulnerable communities. These interventions included emergency shelter kits, transitional shelters, and disaster risk reduction training.
Haiti earthquake
An earthquake with a magnitude of 7.0 struck the Caribbean nation of Haiti on Jan. 12, 2010—just 10 miles west of the capital, Port-au-Prince. Thousands of buildings and homes were destroyed. Millions of people were affected, and 1.5 million people were left displaced or homeless. Habitat has addressed shelter solutions for low-income families and has begun recovery efforts that include emergency, transitional and reconstruction solutions.
2009
Philippines typhoons
In September and October, 2009, metro Manila and nearby Philippines provinces were battered by typhoons Ketsana, Parma and Mirindae. These typhoons affected more than 4.6 million people―killing at least 938 people and damaging or destroying more than 277,000 homes. Habitat assisted more than 15,000 families, including the construction of 312 toilet and bathing units at 25 evacuation centers, distributing 10,000 repair kits, relocating 4,000 families, refurbishing 4,095 homes and building 693 new housing units.
Typhoon Ketsana in Vietnam
Typhoon Ketsana struck Vietnam and Cambodia in October 2009. The storm is said to have killed at least 337 people and forced half a million from their homes. Habitat Vietnam's response included new home construction, home repairs, construction training and community-based disaster risk management training.
Pacific tsunami in Samoa
A powerful 8.3-magnitude earthquake caused tsunami waves that struck several South Pacific island nations early on Sept. 30, 2009. The tsunami took more than 150 lives, and many of the villages and resorts on the southern coast of the Samoan island of Upolu were wiped out. Habitat for Humanity New Zealand offered to lead the response, and by June 2010 had sent 600 volunteers to rebuild 91 new homes, or Fales.
Earthquakes in Indonesia
A powerful 7.6 earthquake struck near the city of Padang, Indonesia, in the early evening hours of Sept. 30, 2009. This followed a 7.0-magnitude earthquake in West Java on September 2. The earthquakes left 81 people dead, 1,297 injured and 41 missing. Additionally, approximately 100,000 homes, 3,000 schools and 500 office buildings were damaged.
Habitat for Humanity Indonesia's goal was to support and mobilize survivors to rebuild safe, earthquake resilient homes, to construct safe and hygienic water and sanitation systems and to repair damaged homes. By 2011, Habitat built 417 new homes, four new schools and repaired 465 houses in West Sumatra.
In October 2009, Habitat for Humanity Indonesia kicked off its project to rebuild and repair houses for earthquake-affected families in the Pangalengan District, West Java. By February 2011, Habitat built 137 new core houses and two new schools.
Flooding in India
On Sept. 30, 2009, the southern Indian states of Andhra Pradesh and Karnataka were hit by the worst floods in 100 years. Affecting more than 2 million people, the widespread flooding killed 247, displaced more than 1 million and destroyed more than 370,000 houses. Habitat for Humanity India built 106 new houses and repaired 200 homes to help affected families.
Disaster Response volunteers newsletter
You can receive updates on U.S. disaster response and recovery volunteer opportunities.
2008
Flooding and severe weather in the U.S.
In 2008, floods, tornadoes and severe storms caused considerable damage to communities in the Midwest. Habitat engaged in a wide variety of local efforts to aid these disaster-affected communities, with a key focus on Cedar Rapids, Iowa, where more than 5,000 homes were flooded, and almost 20,000 residents were displaced. Twenty-home blitz builds were organized by Habitat in June 2009 and 2010 to help restore some of the affordable housing lost in Cedar Rapids.
China earthquake
On May 12, 2008, an earthquake measuring 7.9 on the Richter scale struck Wenchuan County in China's densely populated Sichuan Province, killing more than 50,000 people and injuring more than 300,000. Other affected areas include Beichuan County, Deyang city, Mianyang city and Dujiangyan city. With support from donors, partners, volunteers and local government officials, Habitat for Humanity China worked on six housing projects designed for about 1,000 families.
Cyclone Nargis in Myanmar
Cyclone Nargis, a Category 3 storm, hit Myanmar (Burma) on May 2, 2008. High winds, heavy rain and flood waters affected more than 2 million people, killing an estimated 145,000, injuring 56,000 more and displacing 500,000 people from their homes. Habitat for Humanity became one of World Concern's partners in a phased program to facilitate early recovery and restore access to food, water, shelter, livelihoods, income and healthcare, serving an estimated 7,000 families, or about 26,000 people in 52 villages.
Flooding in Indiana, USA
In January 2008, flooding from the Tippecanoe and Wabash Rivers destroyed at least 180 homes and damaged 700 homes in Indiana. Another onslaught of warm weather and excessive rain led to more flooding in the same region in February. Habitat for Humanity of Lafayette played an instrumental role in aiding long-term recovery efforts in an eight-county region in northwest Indiana. The affiliate also joined other organizations to form Disaster Assistance for Northwest Indiana―a coalition committed to restoring affected households in the area to "pre-flood wholeness."
2007
Cyclone Sidr in Bangladesh
Tropical Cyclone Sidr slammed into Bangladesh's south coast on Nov. 15, 2007, packing winds of up to 140 miles per hour and tidal waves that swept away homes, crops and livestock. The cyclone, the worst to hit Bangladesh since the 1991 cyclonic disaster, claimed the lives of more than 3,000 people and affected more than 8 million total. The cyclone's effect extended more than 1,700 areas, causing massive damage to houses, buildings, roads and other infrastructure.
In response, Habitat Bangladesh assisted families affected through capacity building efforts, construction of 480 transitional shelters with proper sanitation using contributions from UNICEF Bangladesh and Habitat Great Britain.
Hurricane Felix in Nicaragua
On Sept. 4, 2007, Hurricane Felix, a Category 5 storm, struck the Atlantic coast of Nicaragua, affecting more than 300 urban and rural communities and at least 33,000 families who were already among some of the poorest in Nicaragua. Housing, water and sanitation systems; access roads; schools; health centers; and places of worship were all damaged by the hurricane. Impact on crops, the area's small-scale fishing industry and the environment was disastrous. Habitat for Humanity Nicaragua, in collaboration with partners, devised a participatory methodology to design and build new homes that integrate mitigation elements while respecting local culture and customs of the indigenous Miskito population.
Habitat built houses for the 150 indigenous Miskito families living in the small remote community of Auhya Pihni. 
Earthquake in Indonesia
In March 2007, a powerful earthquake hit the Indonesian island of Sumatra, flattening hundreds of buildings and killing more than 70 people. In the aftermath of the earthquake, Habitat Yogyakarta volunteers and staff cleared debris and helped other organizations distribute emergency supplies to the community.
Immediately after, Habitat began the long task of rebuilding. Through Reaching out Architect―a three-month apprentice program for architectural or civil engineering students―Habitat was able to tap more than 40 local university students to assist Habitat field staff in consulting communities about rebuilding.
Several months after the earthquake, Habitat Yogyakarta also rebuilt 60 houses for people injured by the earthquake―building core houses that could be enlarged at a later date. The affiliate completed the rebuilding program in mid-2007, exceeding its original target by helping more than 1,000 families rebuild their homes and lives.
2006
Seismic swarm in El Salvador
In December 2006, more than 1,000 tremors impacted western El Salvador, damaging or destroying approximately 3,700 homes. Habitat for Humanity repaired or rebuilt homes for more than 200 families devastated by this disaster.
Complex humanitarian emergency in Lebanon
The July War of 2006 in Lebanon destroyed vital infrastructure and leveled buildings throughout the country. Nearly 1 million people were displaced internally during the war. The government of Lebanon estimated that nearly 100,000 homes were damaged during the conflict, while more than 11,000 homes were completely destroyed.
Habitat's response focused on accelerating, monitoring and funding the repair and reconstruction of homes impacted by the fighting. In total, the program benefited nearly 900 households and injected more than US1 million into the local economy.
Floods in Romania
The floods along the Danube River in 2006 were among the most devastating in 100 years. Habitat for Humanity International and UNICEF-Romania funded an intervention project in the Danube shore villages of Bechet, Macesu de Jos and Carna. The program, which ended in June 2007, was successful in assisting nearly 200 needy families whose homes were either completely destroyed or had structural problems.