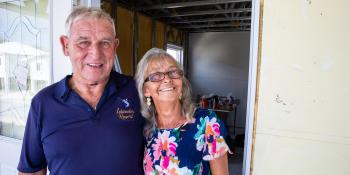 Research series: How does housing impact health?
Social determinants of health are factors that encompass how people are born, grow, live, work and age and that affect their health outcomes. These include aspects that range from socioeconomic status to the neighborhood and physical environment and are recognized by multiple health care organizations and other groups as necessary for improving overall health and reducing health disparities.
The U.S. Centers for Disease Control and Prevention, or CDC, identified housing as an important social determinant of health, highlighting the link between where people live and their health. The CDC recognized that people with low incomes and people of color tend to reside in places with more health risks — greater exposure to health hazards within the home and the community, such as lead, mold and toxic pollutants — and face housing cost burdens that encourage housing instability, which can jeopardize the ability to meet their basic needs.
Identifying the home as a potential health hazard, the U.S. Department of Housing and Urban Development, or HUD, defined eight Healthy Homes principles necessary to maintain a healthy home: keep it dry, clean, safe, well-ventilated, pest- and contaminant-free, well-maintained, and thermally controlled. People with low incomes, however, must often choose between a healthy home that meets at least this basic standard and one that they can afford. 
This brief summarizes research on key factors to improving health through housing in populations with low incomes and illustrates how the work of Habitat for Humanity contributes to positive health outcomes.
Check out our highlights below and download the full evidence brief.
Research highlights
Key factors for health-promoting housing
Providing access to stable and affordable housing improves health and reduces health care costs. Among households with low incomes, moving into more affordable and stable housing was associated with 18% fewer emergency department visits and 20% more primary care visits, which combined equate to a 12%, or approximately $580, decrease in Medicaid health care expenditures from the previous year.
Removing physical hazards and improving the safety of homes leads to better health for children and the elderly. Removing asthma triggers, such as pests and mold, from homes, coupled with community case management, resulted in decreased health care use and improved quality of life for children. Repairs and modifications to homes, coupled with home visits by a health care provider, resulted in a 30% improvement in the ability of older adults with low incomes to perform daily activities.
Living in homes in low-poverty neighborhoods or neighborhoods with access to healthy foods can improve physical health and healthy eating.
Key place-based barriers to improving racial disparities in health
Black and Hispanic/Latino populations with low incomes tend to live in the least healthy neighborhoods, which are plagued by environmental pollutants and lack access to health-promoting resources. Black households with low incomes live in more environmentally hazardous neighborhoods that have up to 3.3 times the average toxic concentration levels of the average all-white neighborhood, while the environmental risk of being exposed to pollutants increases as the percentage of Hispanic/Latino households increases within a community.
Black and Hispanic/Latino populations are more likely to live in substandard housing conditions, which increase the risk of adverse respiratory outcomes and lead poisoning.