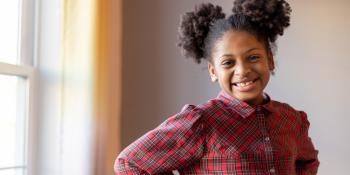 Research series: How do racial inequities limit homeownership opportunities?
Black and Hispanic/Latino households face unique barriers to homeownership that prevent access to the beneficial outcomes associated with homeownership, such as wealth building, improved health and higher educational attainment. Historically, structural and institutional obstacles faced by racial and ethnic minorities compounded over time to produce these inequities.
Through a series of evidence briefs, Habitat is bringing to light research on the impact that affordable housing has on individuals and families at home and beyond. This brief provides an overview of the barriers to homeownership that Black and Hispanic/Latino households face and the far-reaching effects of these obstacles. Check out our highlights below and download the full brief.
Research highlights
Brief history of racial inequities in housing
Starting in the 1930s, the federal government began a practice of "redlining," or refusing to guarantee mortgages for homes in communities where households of color lived. While this was largely targeted toward Black households, the discrimination impacted all homebuyers of color, including Hispanic/Latino households.

This severely limited access to mortgages for Black homeowners. Between 1934 and 1962, households of color received only 2% of all government-backed mortgages.

The Federal Housing Administration also encouraged practices aimed to segregate communities of color. These included racially restrictive deed covenants, strict zoning ordinances and social enforcement of racially segregated neighborhoods.

Many Black households were also forced to pay higher rents in segregated communities, due to limited rental supply and increased demand, and those looking to instead purchase a house often faced inflated home prices that frequently resulted in home loss. Urban renewal efforts also leveled many Black and integrated neighborhoods under the guise of new development, which often never materialized.

These racial policies and practices led to the ghettoization of Black communities, as these communities confronted a lack of resources, disinvestment and overcrowding. Many of these communities were located near environmental hazards, further driving down property values and trapping residents in these areas.
Key barriers to accessing affordable homeownership for Black and Hispanic/Latino homebuyers
Higher income and wealth and greater access to credit are associated with higher homeownership rates, but Black households' income and wealth distributions are notably lower than those of white households, and they are less likely to have sufficient credit.

Systematic inequities hamper homeownership rates for households of color — as much as 17% of the homeownership gap cannot be explained by sociodemographic factors.
Key barriers to building home equity for Black and Hispanic/Latino homebuyers
Black and Hispanic/Latino homebuyers use more debt to finance homeownership and have more expensive mortgage terms. On average, Black homebuyers pay 29 basis points more than comparable white homebuyers. Homes purchased by Black homebuyers tend to be lower-valued, appreciate more slowly and have higher property taxes.

Black and Hispanic/Latino households are less likely to sustain homeownership. Less than half of homeowners of color with low income remained homeowners within four years of becoming a homeowner, compared with 60% of white homeowners with low income.
Key place-based barriers to improving racial disparities in health
Black and Hispanic/Latino populations with low incomes tend to live in the least desirable neighborhoods with fewer health-promoting characteristics.

Black and Hispanic/Latino populations are more likely to live in substandard housing conditions that create unhealthy environments.
Key place-based barriers to improving racial disparities in education
Black and Hispanic/Latino students remain concentrated in segregated, high-poverty neighborhoods with low-performing schools. About 45% of Black and Hispanic/Latino students attend high-poverty schools.